5 Minutes to a Kid-Proof iPhone and iPad
I don't know about you, but my kids seem to swipe the iPad at any chance they can get.  The Education Technology geek in me loves that there are so many educational apps and great interactive books out there, but that's another post. 

The issue I have is when they take 860 pictures of their feet, delete apps, and veg out playing Angry Birds when they should be doing math games or basically watching TV on the PBS kids app.  

Fortunately, there are some really easy solutions to these issues that for some reason are not advertised with a glowing "PARENTS! CHECK THIS OUT!" sign at every Apple store.  Follow these easy steps and take back control of your iDevice in minutes!
Take Control with Guided Access, Apple's "Hidden" Child Lock Feature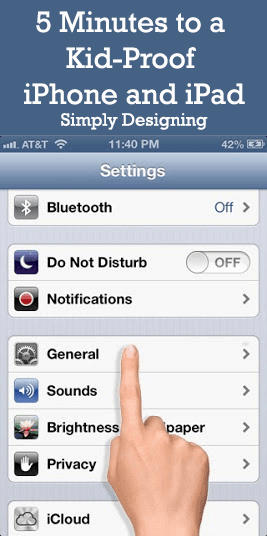 5 Minutes to a Kid-Proof iPhone and iPad
Guided Access allows you to lock the iPad or iPhone in a single app, and allows you to control what features are available. (For instance, aside from locking the Home button down, you can also turn off the touch or shake features. Good if you are on a road trip and playing a movie!)
- Go to "Settings" and touch "General"
-Scroll down to "Accessibility"
- Scroll down and find "Learning" and touch "Guided Access"
-Slide the switch to "ON" and set a passcode.
When you are in the App you want to use, triple click the home button and press the "start" button in the upper right corner.  Now, the child cannot leave the app you chose for them without the passcode you have set. 
Stop Apps from Being Deleted, Stop In-App Purchases and Restrict Apps for Older Children
Guided Access is a great way to stop my 4 year old from taking over and mostly prevents the deleting apps issue, but for a more trustworthy, older child that can read and make appropriate choices, it may be a bit too locked down.  You can turn on Restrictions to lock down your iPad or iPhone while still allowing the child to switch between apps.  Under Restrictions, you can turn off in-App purchases, stop Apps from being deleted, restrict the use of certain Apps and even keep the volume down.
- Go to "Settings" and touch "General"
- Scroll down to "Restrictions"
- Touch "enable restrictions"
- Scroll through and choose which functions to restrict:
- Under "Allow", touch "deleting Apps"
- Under "Allowed Content", touch "In-App Purchases" and set "Require Password" to immediately
- Under "Allow Changes" touch "accounts" and choose "Don't Allow"
These settings will give you a basic "lock down".  When you are in the Restrictions screen, you can see there are many, many other settings you can lock down for your individual needs. Enjoy, and have fun sharing technology with your kids, without worrying that they are going to trash everything or get in to apps/sites you don't want them in!
You might also enjoy: