I love creating wreaths.  I don't do it very often, but I always love how they turn out and how they look either in my home or on my front door.  Today I am really excited to share a fun wreath idea that is perfect to use all year long and would look great inside or outside!  I think I will keep mine inside for right now though because I love looking at it.  This wreath is fairly simple to make and it looks amazing!  Plus it is a Pottery Barn Knock-Off for about ½ the price!  Seriously!  I just think you are going to love this!  So keep on reading to see how to create this Faux Succulent Wreath [Pottery Barn Knock-Off] in about an hour.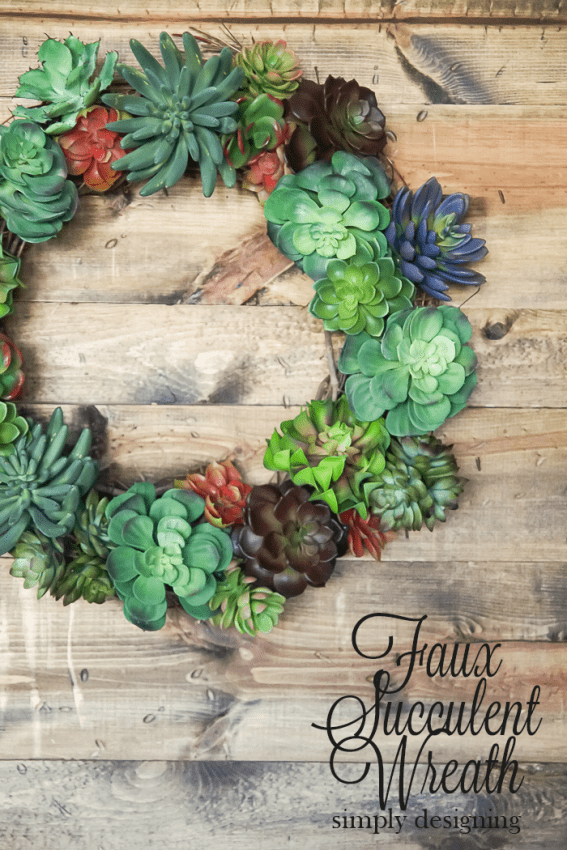 A big huge thank you to Elmer's for making this post possible today.  
This wreath was so fun to make and I really do love how it turned out!  It is such a fun and modern wreath.  I just love how the succulents look in this wreath too!  The texture and color is just amazing!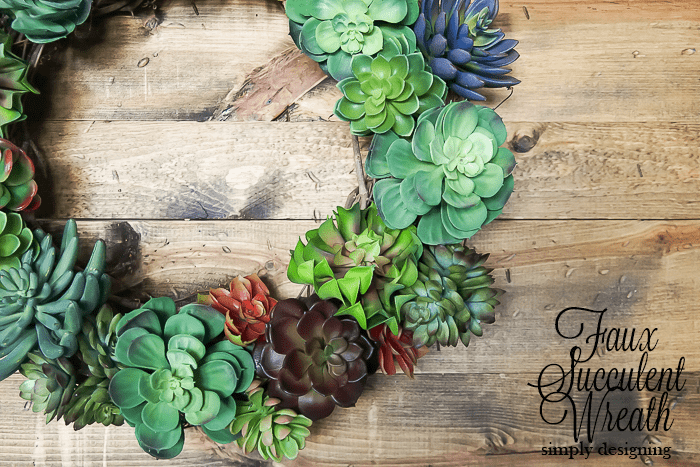 You will just need a few supplies and about an hour of time to create your own faux succulent wreath.

Faux Succulent Wreath [Pottery Barn Knock-Off]
Supplies: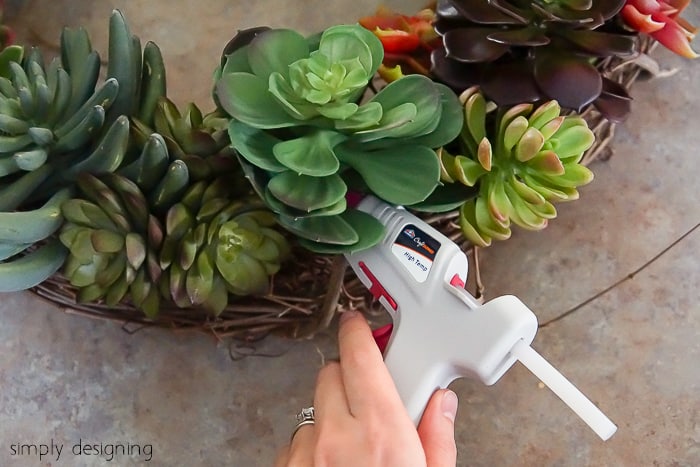 Directions:
Begin by taking all the tags off of your succulents and your wreath.  I know that sounds silly, but with that many succulents, it takes a little bit of time and you don't want to end up with a stray tag in your wreath.
Carefully place your succulents into your grapevine wreath.  Be sure to space them out evenly and push your succulent stem into the grapevine wreath.
Once the succulents are placed evenly around your wreath, use your Elmer's Hot Glue Gun and glue sticks to glue the succulents into place.  Use lots of glue so that these are very secure.  The succulents are heavy so you want to be sure they are secured in place well.
Turn your wreath over and use wire snips to trim off any portion of succulent stems that are sticking out beyond the wreath.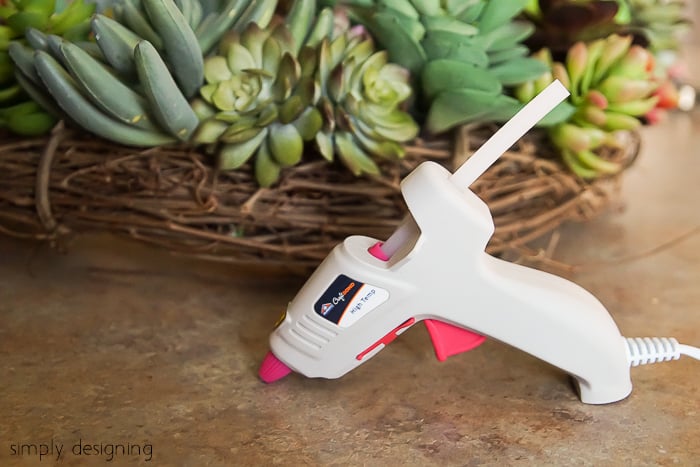 Hang your wreath and enjoy!
This wreath would look beautiful on your front door.  But I am keeping it inside right now.  In fact, it found a home on my DIY Pallet Board in my family room and I really really love how it looks here.  I think it adds a pretty touch of green to the room!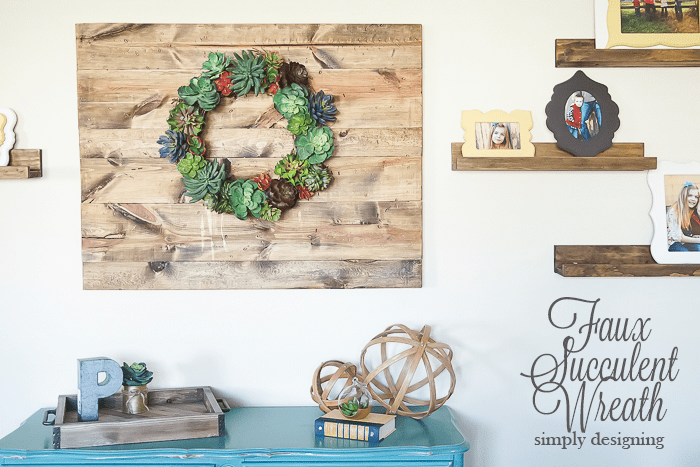 And, yes this is a Pottery Barn Knock-Off Idea.  I found this wreath here from Pottery Barn and fell in love with it.  But not the price!  So if you wait until these succulents are 50% off (at many craft stores they put all their floral on sale very often) then you can create your own version of this PB Faux Succulent Wreath for about ½ the cost!  I love saving 50% so this is a great way to get the look for so much less!
Want to see how close mine looks to the Pottery Barn's?
Here is Pottery Barn's version: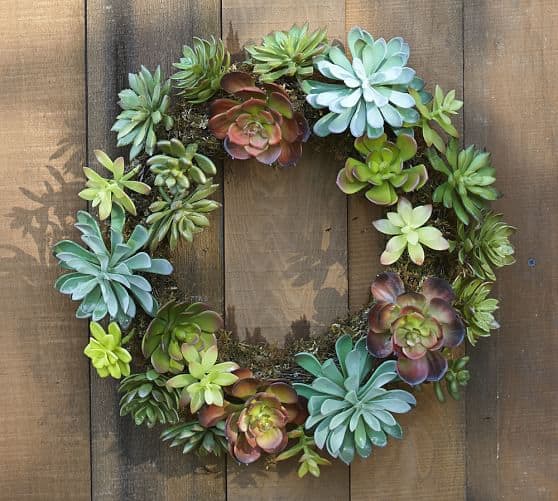 And here is mine: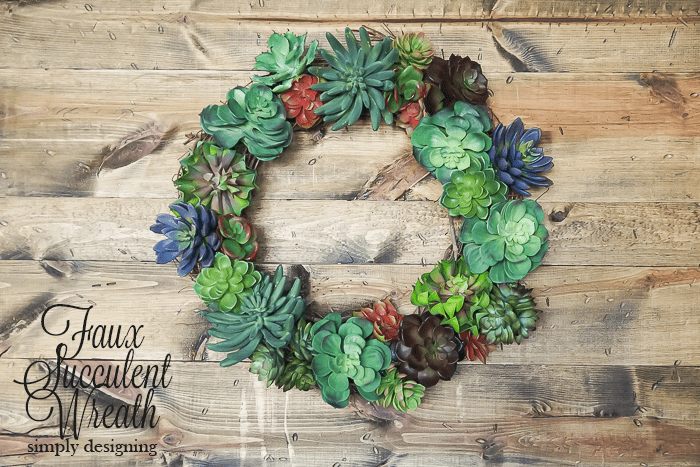 Such a simple and beautiful knock-off project!  And for half the cost!  Woot woot!  I just love this wreath!
And I was so excited to be able to use Elmer's NEW hot glue gun and sticks for this project!  I love using Elmer's glue for so many of my projects and I am so glad that they have added a hot glue gun to their line of products!  And isn't it so cute!?  I love the grey and pink color too.  You can pick up your own Elmer's Hot Glue Gun and Sticks at select Michaels Craft Store soon.  And the best part is their glue sticks because they eliminate the stings that other hot glue sticks leave behind.
If you are looking for more hot glue gun projects and other fun DIY crafts, be sure to follow Elmer's on Instagram and Pinterest, or sign up for their Craft-It newsletter.
You might also enjoy: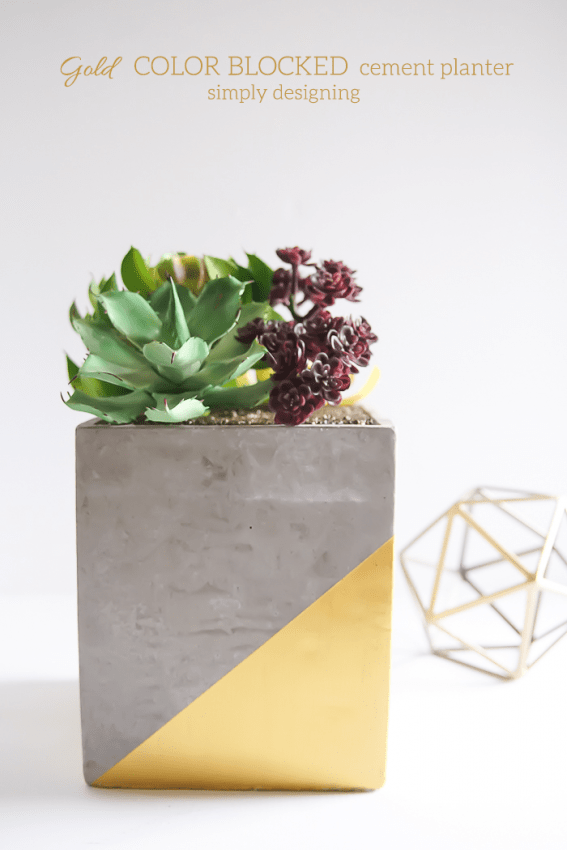 Gold Color Blocked Cement Planter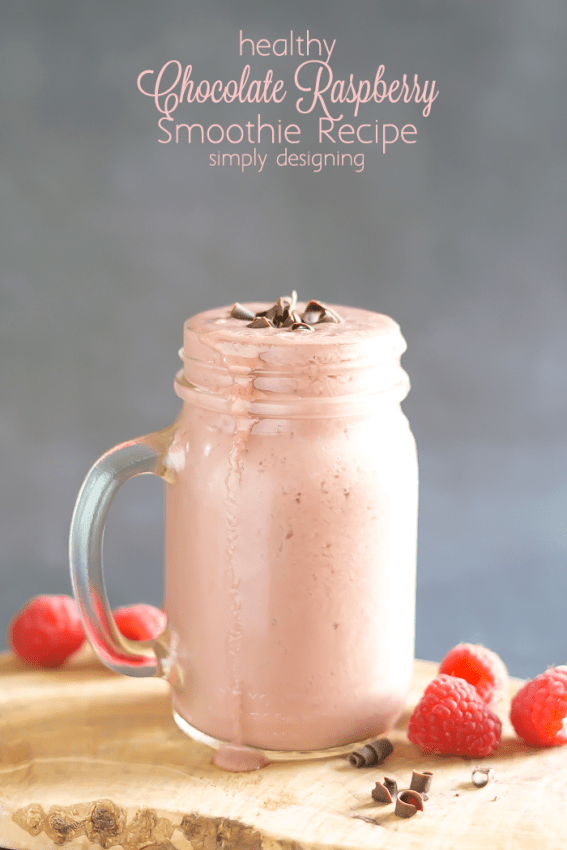 Healthy Chocolate Raspberry Smoothie