A few months ago I made some really fun Kids Soap from fabulous supplies from Consumer Crafts.  This craft was not only a lot of fun, but it was so simple that my 8 year old daughter could do most of it all by herself!  So today I am really excited to show you another really fun DIY Soap perfect for kids of all ages and perfect for Halloween: DIY Spider Halloween Soap!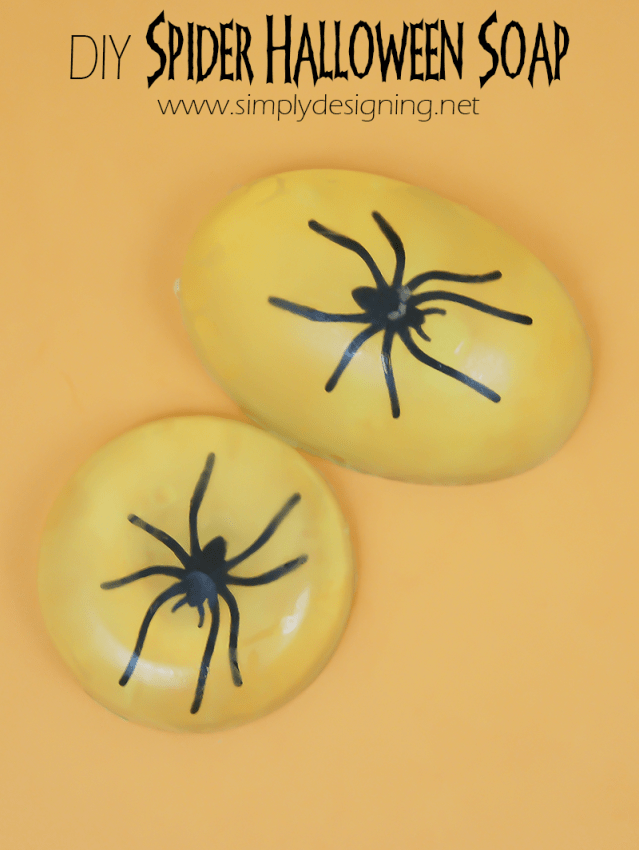 DIY Spider Halloween Soap
You will just need a few simple supplies to create this Halloween Soap!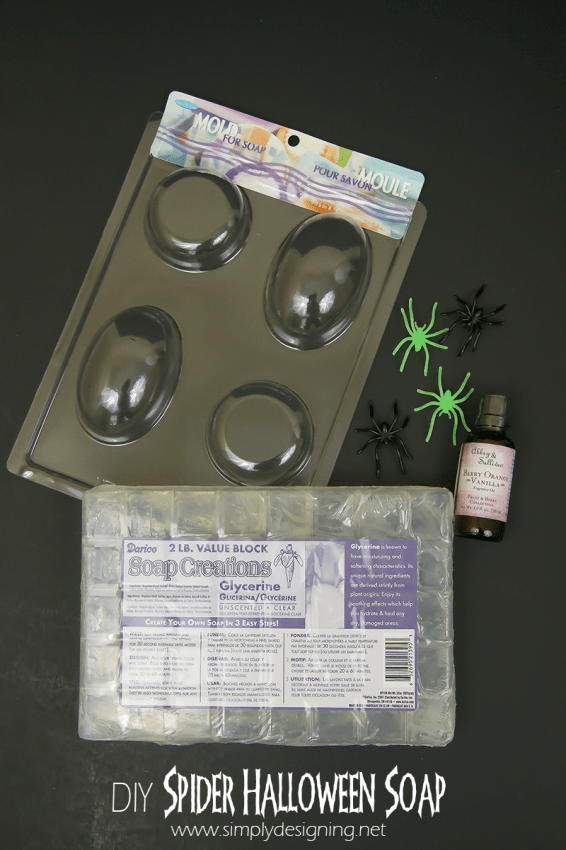 First you will cut your glycerin soap base into smaller chunks and place it in a microwave safe dish.  Half of a soap base bar will make between 4-6 bars of soap depending on the size of the mold.  Microwave the soap for 30 second intervals until it is fully melted, stirring in between.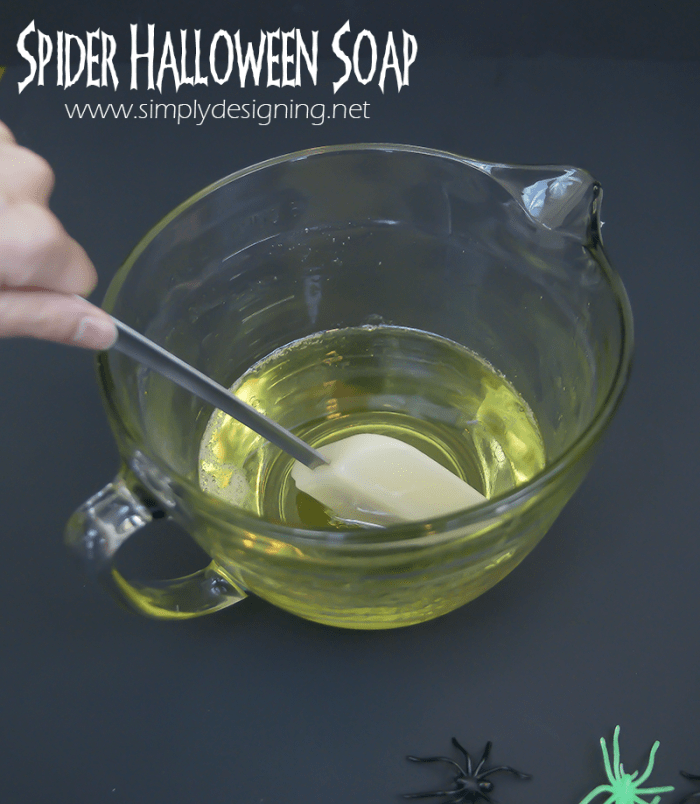 Once the soap is melted, add a few drops of fragrance if desired.  Keep in mind that the fragrance may change the color of the soap a little bit.  The glycerin base is perfectly clear, but the Berry Orange Vanilla fragrance made the soap a slightly yellow color.  Which, actually made the soap more spooky and was perfect for Halloween soap!  So I didn't mind at all.  But you might want to test this out before you add your fragrance into the entire batch.  You can add soap coloring to this mixture at this time if you like too!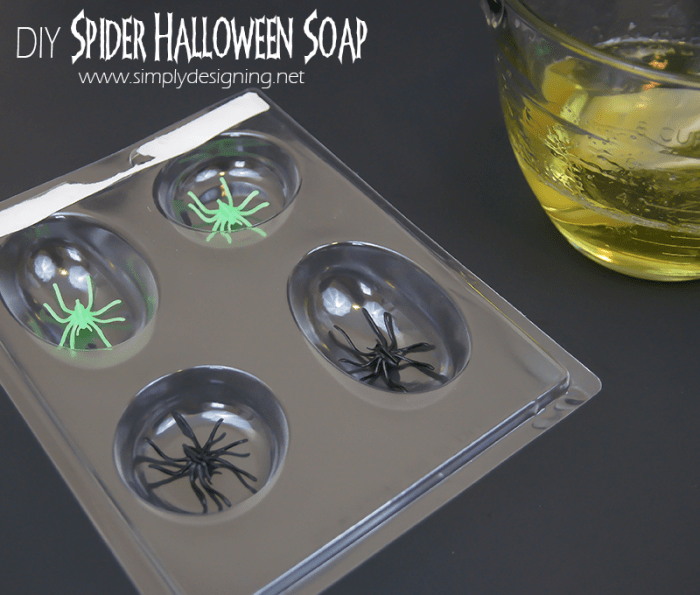 Mix everything well and then add the spiders to the bottom of the soap molds.  Pour the soap mixture into the soap molds.
Your spiders may rise to the top (which is really the bottom of the soap).  You may leave the soap like this or you can use a toothpick to push the spiders back down.  I let the soap begin to set just a little bit and then I pushed them down (to the top of the soap) and they stayed fairly well!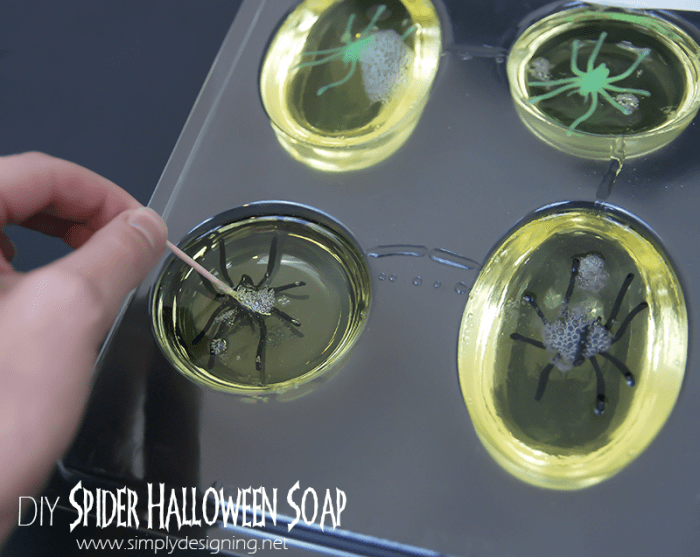 You can set your soap on the counter or in your fridge.  I always have a little bit of trouble getting my soap out of the mold, so I then placed my soap in the freezer for about 10 minutes and they popped out a lot easier!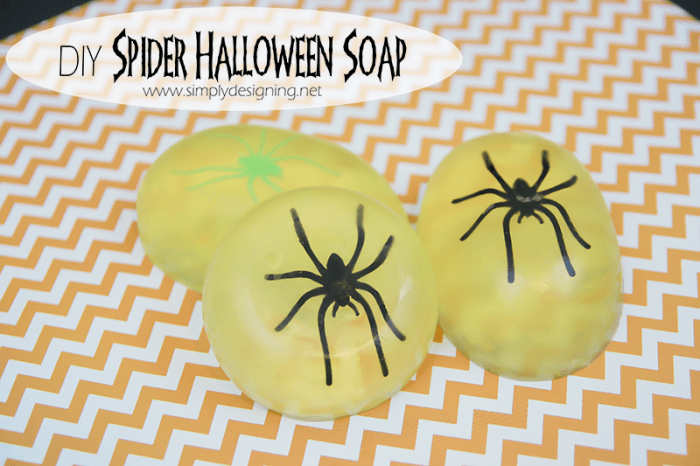 And aren't they just so cute!?  I love how these turned out!  Our DIY Spider Halloween Soap is just the most fun soap to have our during this time of the year!  And perfect to put out at a Halloween party too!
I posted about this project first on Crafts Unleashed.  
You might also like: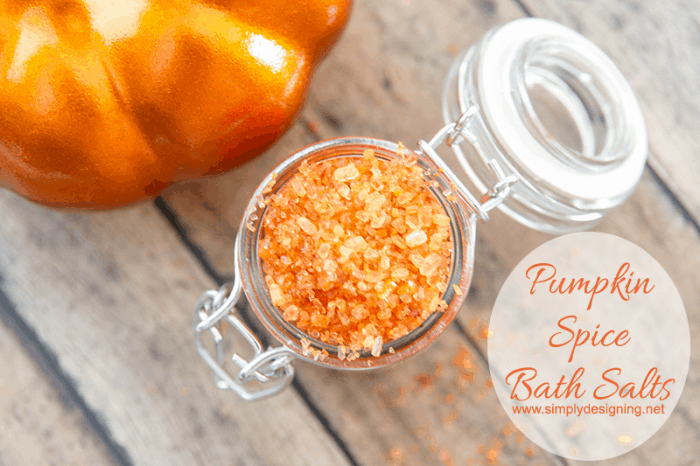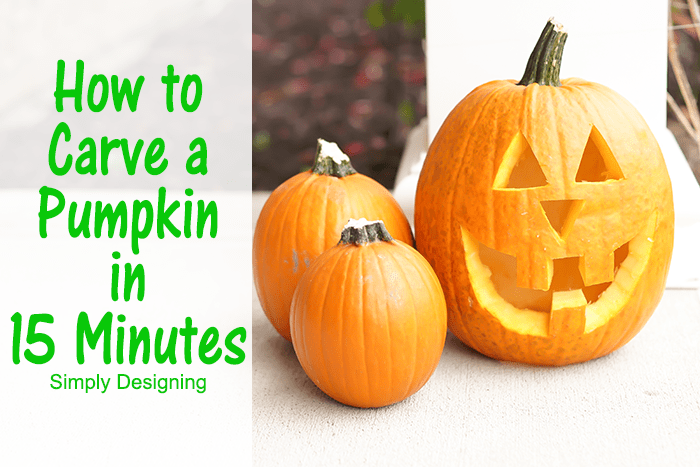 How to Carve a Pumpkin in 15 Minutes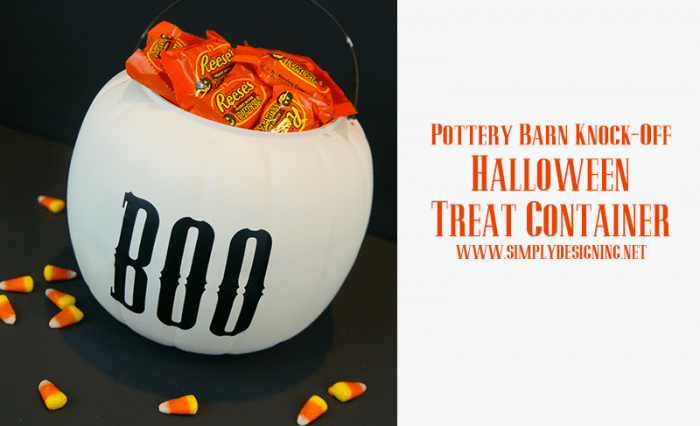 Halloween Treat Containers (PB Knock Off)
Pottery Barn Knock Off Hanging Ghosts