There are a few (i.e. many) spots in my home that are in need of a little love and attention right now.  We are furiously working away at a big bedroom makeover for my daughter(s) and I can't wait to share more on that soon, but another room that has been bothering me is my kids bathroom.  When we moved into our home 6 years ago, we put up the shower curtain we previous had, a few matching towels and that was it.  A couple of years ago we added white wood paneling to the bathroom which completely changed the look and I just love it!  Then later we changed our shower head, faucet and added other fixtures and a safety bar as well.  We have also added a pretty light to the room and a frame over our mirror.  So we have done quite a few things to update the space, but I never loved it and it just became a dumping ground for all my kids stuff.  So this past weekend I decided that I was going to finally tackle the room and so today I am really excited to share my Kids Bathroom Makeover with you today!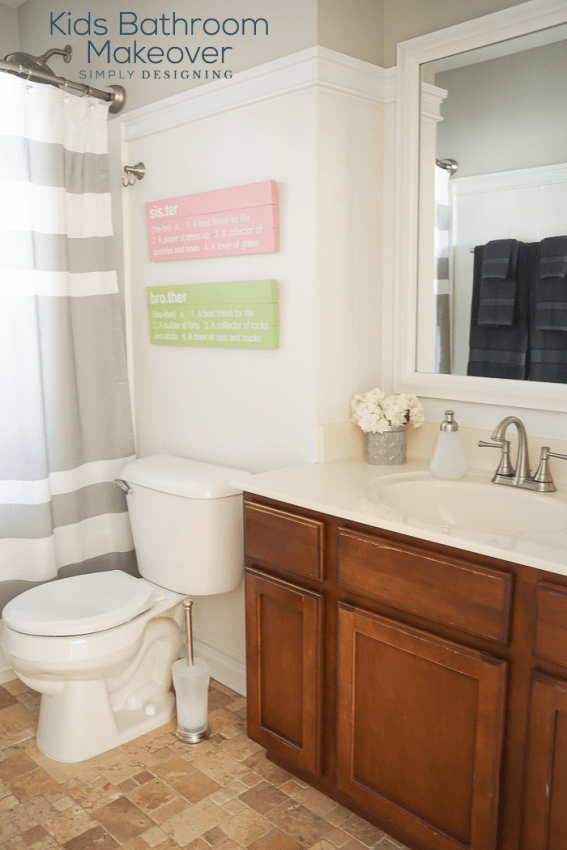 A big thank you to Better Homes and Gardens for making this post possible today.  I am thrilled to be an ambassador for them this year!  All opinions are mine.
I suppose I really need to show you some before photos.  Here are just a few shots so you can see where we were when we began working on it this weekend.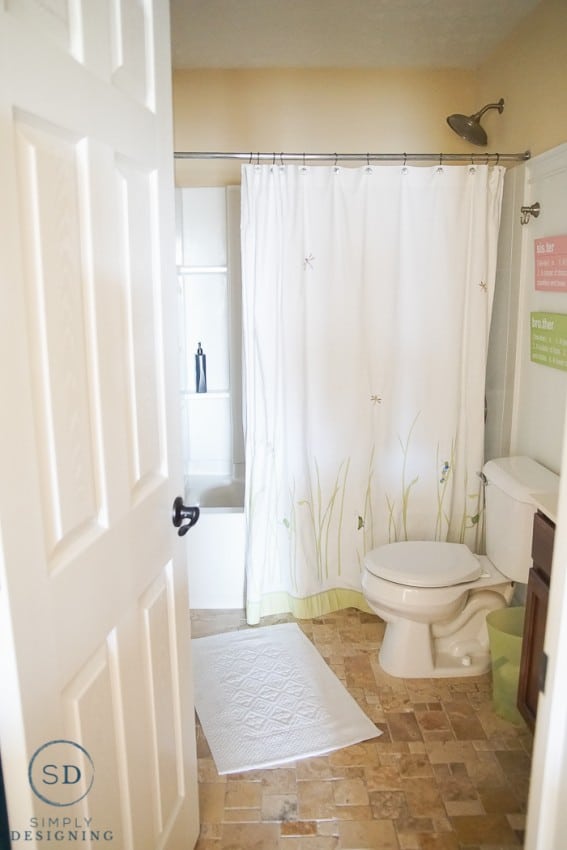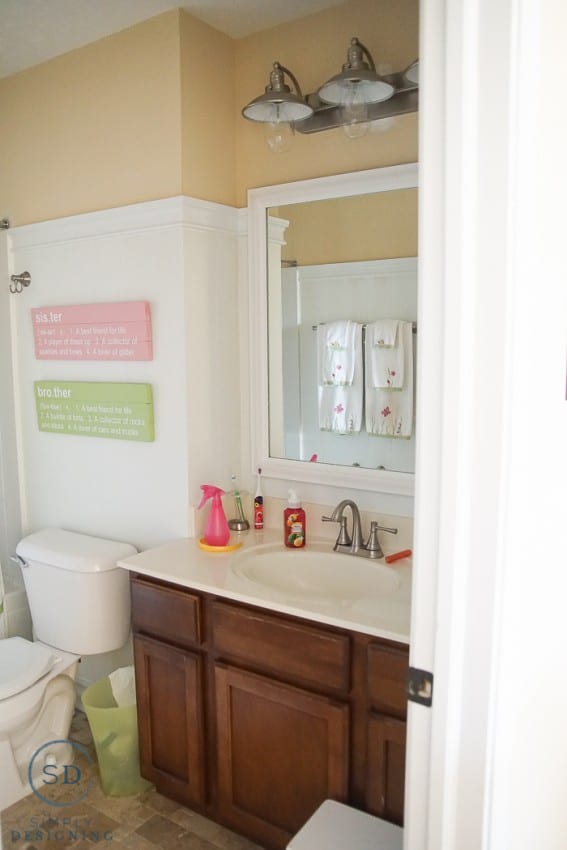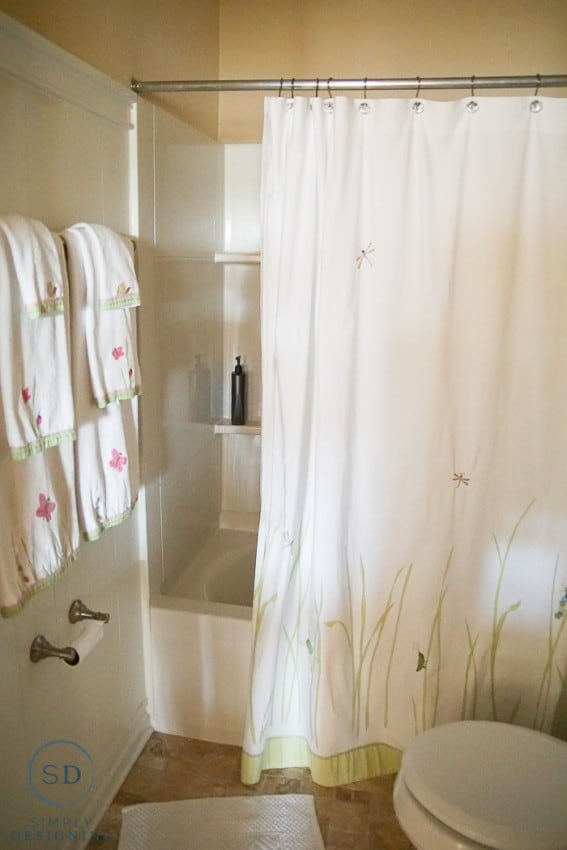 The first thing I did in the kids bathroom was to repaint it!  I left the white paneling alone, but painted the top portion of our walls with my favorite grey paint from Sherwin Williams (Repose Gray).  I always request their paint using their Emerald base in a Flat finish.  It gives a completely flat finish that is as wipe-able as a semi-gloss.  I am in love with it.  I used this same paint in my Craft Room Makeover and my Kitchen Makeover too!
After the hard work was done (painting at 27 weeks was exhausting but totally worth it) I was able to have a little fun!  I did a little in-store shopping as well as some online shopping for Better Homes and Gardens products available only at Walmart and Walmart.com.  I was so impressed by the fun, stylish and affordable options that they have to help me organize and beautify my kids bathroom!  And believe me...my kids needed a lot of help getting their bathroom under control.  (I have embarrassing photos later in the post to prove it too!)
One of the first things I found and fell in love with for their bathroom was a new toothbrush holder.  I know that might sound really silly, but all of my kids toothbrushes have extra large handles, usually with some sort of character on them.  These make brushing teeth fun, but they don't fit into ANY toothbrush holder I have ever found.  So we end up with toothbrushes all over the counter and in random cups on the counter.  It drives me nuts.  Well, while I was at Walmart, I spotted this Better Homes and Gardens Metal Collection Toothbrush Holder and guess what!?  It has extra large toothbrush slots so all of our kids character toothbrushes actually FIT in it!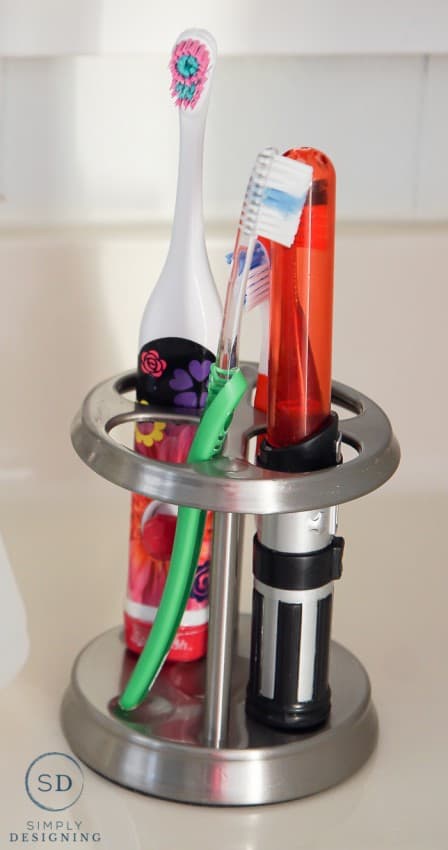 It is the little things, I know, but this made me so happy!  To not have toothbrushes all over the counter is such a simple way to keep the counter top organized and looking nice, so I am really glad I finally found a toothbrush holder that was big enough for kids toothbrushes!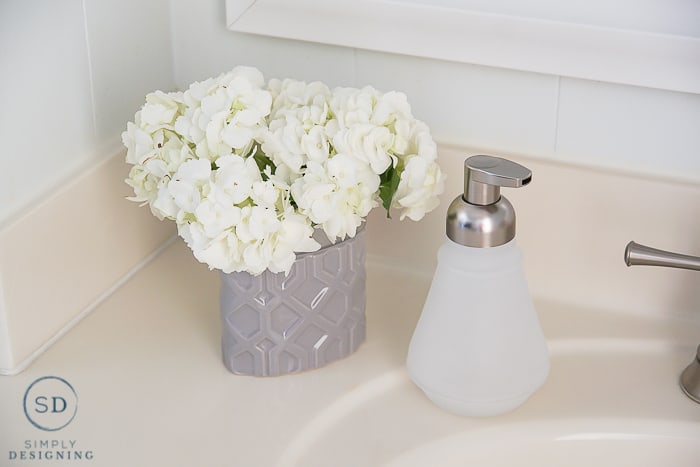 My kids love to wash their hands with foaming soap and I was really excited to find this Better Homes and Gardens Foaming Soap Pump as well!  You can add foaming soap to it, or you can simply fill it to the first line with regular hand soap and the second line with water and the special pump turns it into foaming hand soap for you!  This is a great way to save money on soap in a kids bathroom and I think it is a pretty soap dispenser too.
On the counter I added these pretty fresh flowers too.  While I was at Better Homes and Gardens last week, I saw a cute table decoration where they had used a toothbrush holder as a vase!  It looked amazing and I thought the idea was so fun and creative that when I found this Better Homes and Gardens Fretwork Toothbrush Holder, I knew it would look really cute with flowers or greenery in it in the bathroom.
Ok.  I am pretty embarrassed to show you underneath the bathroom sink.  It had become a spot to throw anything and everything and was pretty disastrous.  Here goes nothing...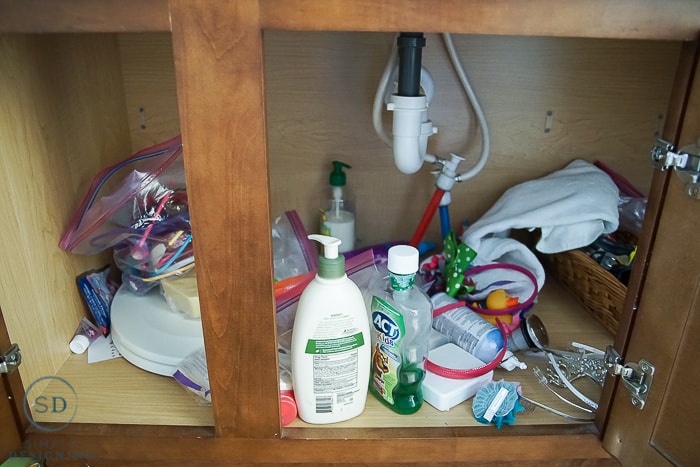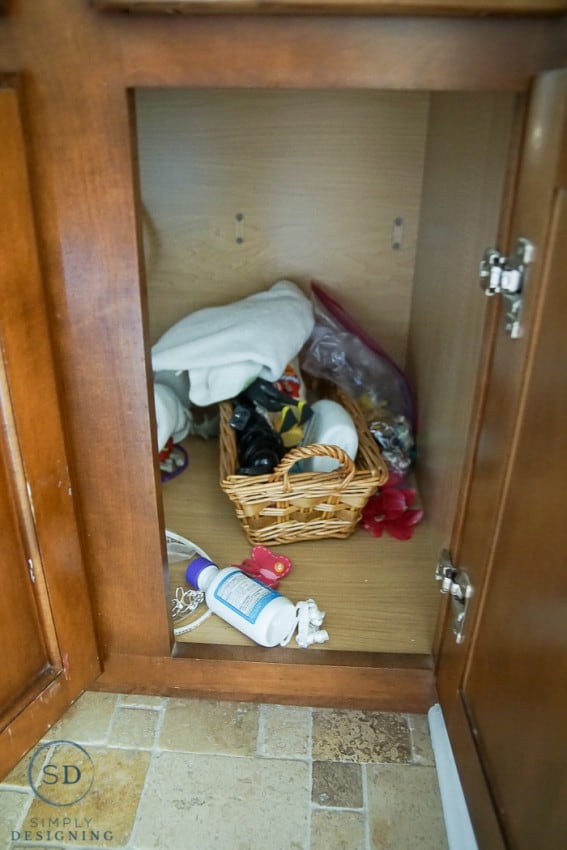 This is what it looks like after...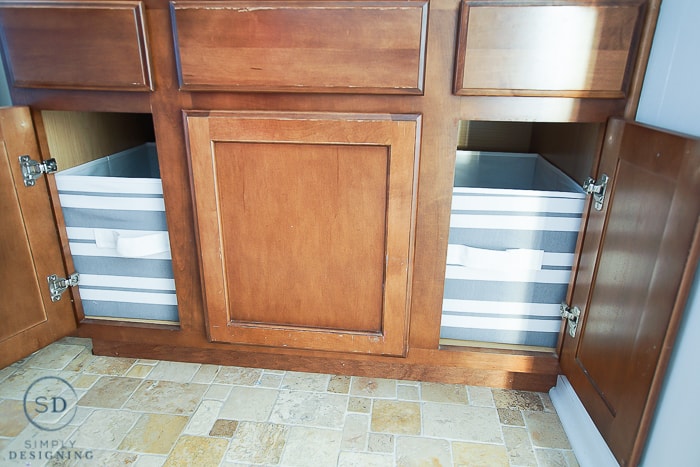 I am not sure how these bins will sit yet, if they will be more to the sides or more in the middle.  Either way they work really well and look so pretty!  And it is so much better then what it looked like before.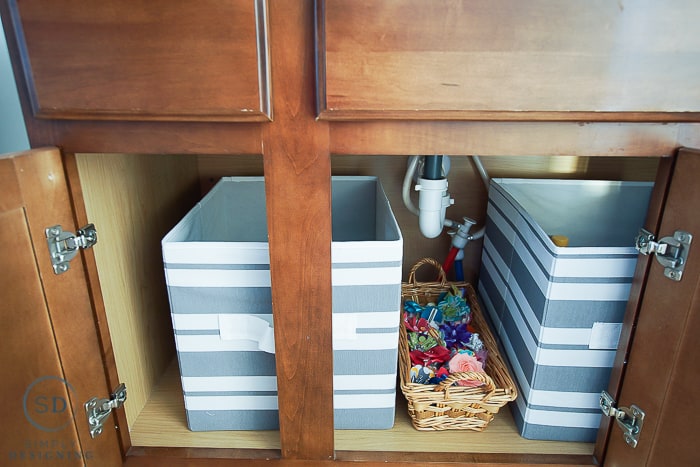 I organized this space fast by buying a couple of Collapsible Fabric Storage Cubes in Gray Stripe from the Better Homes and Gardens line at Walmart.  I had my children go through their stuff, get rid of anything they didn't need and then organize the things they did need into these cute striped bins!  Even though these storage bins are made to fit in their Cube Organizers, they also fit perfectly under the sink in the kids bathroom.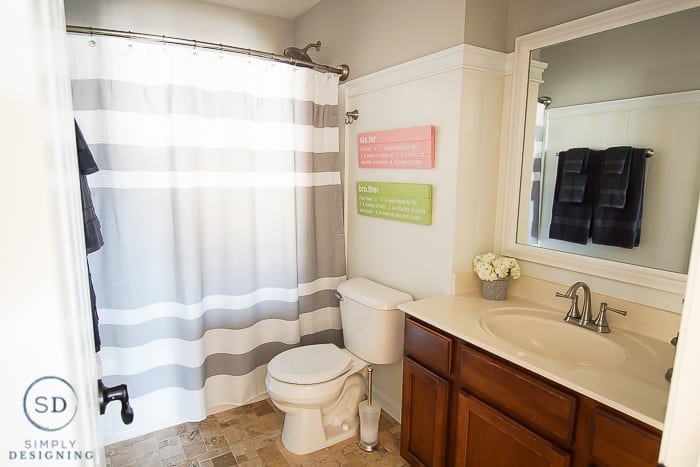 I also decided to make a major change and update the cute kids shower curtain to something a little more grown-up and stylish!  I really liked this Better Homes and Gardens Waffle Stripe Fabric Shower Curtain and knew it would look really nice in the bathroom!  We placed this Better Homes and Gardens Ultimate Shield Fabric Shower Liner in White behind the fabric shower curtain to keep the water in the shower.  And we decided to switch out our shower curtain rod for this Better Homes and Gardens Smart Rod Curved Shower Rod to help the narrow shower feel a little bit bigger!  The shower curtain rod was very easy to install (no extra tools needed) and it looks really nice in the space.
And it isn't very exciting but I threw away the existing toilet bowl brush and bought a new Better Homes and Gardens Plastic Toilet Bowl Brush.  I know that didn't help with organization, but it just needed to be replaced and this one was pretty and affordable.  And it isn't made with breakable ceramic or glass so it is perfect for a home with kids in it.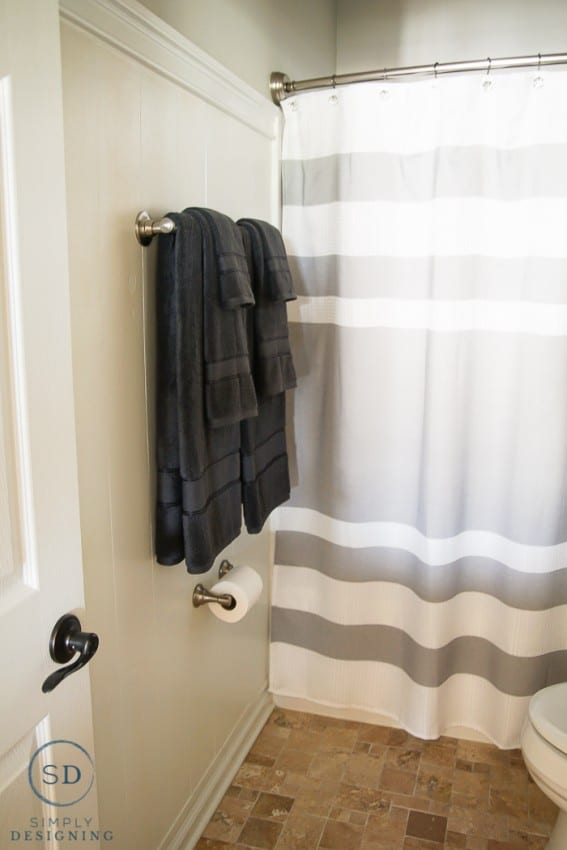 I picked out dark gray Better Homes and Gardens Thick and Plush Bath Towels in Gray Shadow to go in the bathroom too.  They are a bit dark but I really like the contrast it adds to the space while keeping it fairly neutral.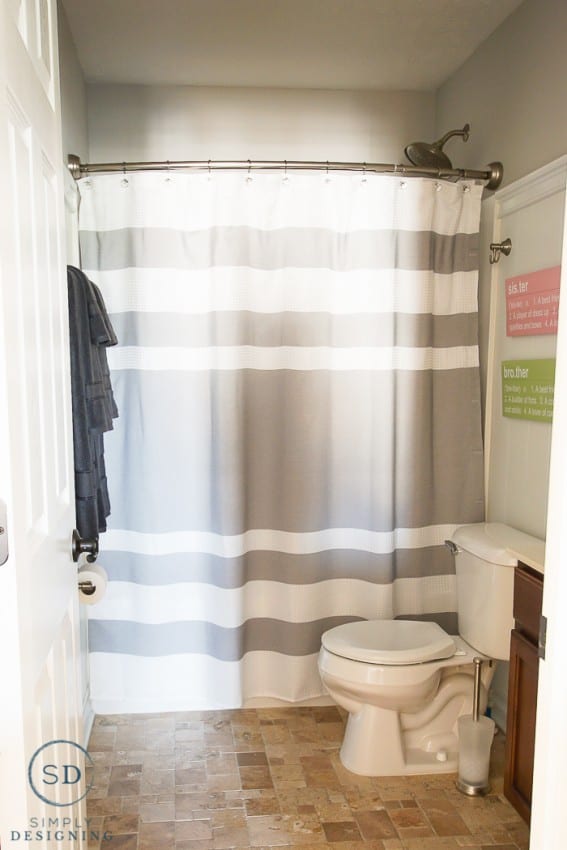 We made some major changes to our kids bathroom but I really do love how it all turned out!  I love that everything finally has a place and that there are meaningful and simple ways for my children to keep their things organized in the bathroom now.  I love the added storage in the space, plus the curved shower curtain rod makes a huge difference in how big the shower feels!  It is amazing!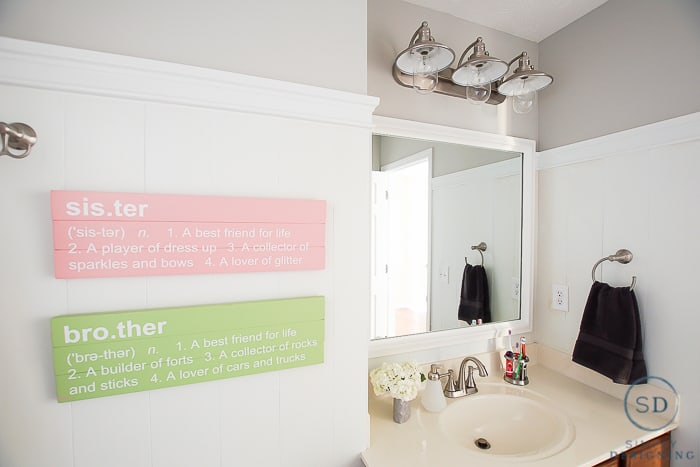 I love how with just a few changes, and a few hours, you can easily transform a bathroom into a beautiful and organized space.
You might also enjoy these other inspiration posts using Better Homes and Gardens exclusive line at Walmart: