I am really excited to announce that I am part of Elmer's Creative team this year!  Wahoo!  As part of that team, I get to share my love of creating, DIYing and crafting with glue with you!  And we all know how much I love glue!  In fact one of my most popular projects from last year was created using Elmer's ProBond Advanced Glue, my Framed Mirror with Hidden Jewelry Organization that you can see HERE.  But today, I was challenged to create something using Elmer's Wood Glue (which I also happen to love and use on a near-weekly basis).  A project that is perfect for spring.  And so today I am thrilled to show you my Rustic Serving Tray with Gold Arrow Accent!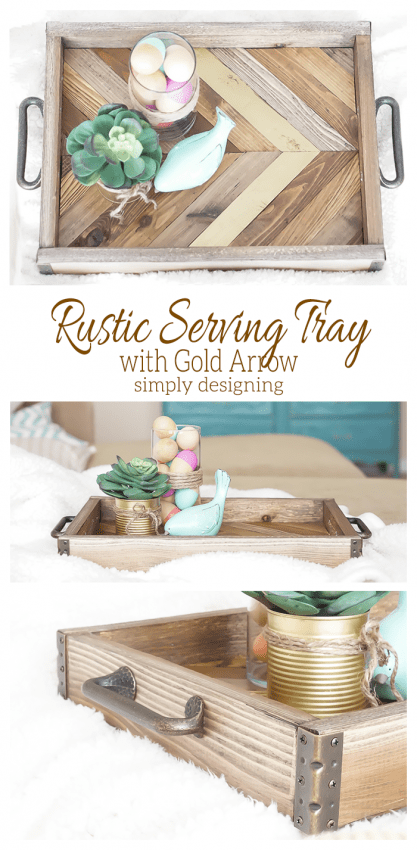 Isn't this simply divine!?  I love how this rustic serving tray turned out!  It is not a herringbone or chevron pattern, but an inlaid arrow pattern, and the gold accent arrow...makes my heart swoon!  The rustic hardware is such a fun look with the weathered looking wood I used.  I truly love how this turned out!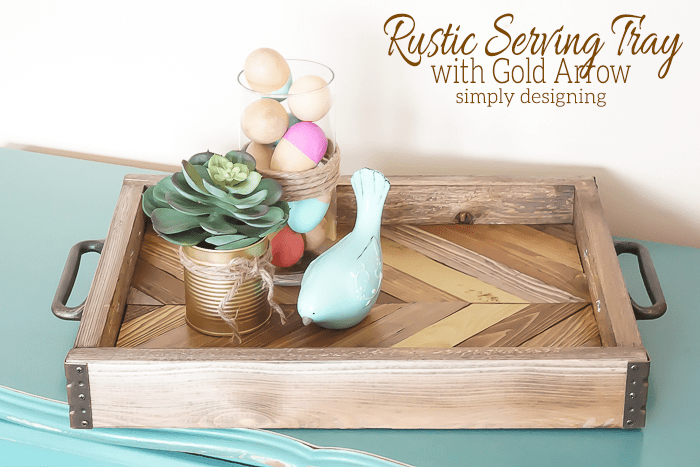 And doesn't this make the perfect container for holding a few spring decorations!?  It would also be the perfect tray to serve spring drinks (like this one) or a delicious smoothie (like this one).  This would also be perfect to bring breakfast to mom in bed on Mother's day...just casually throwing that out there...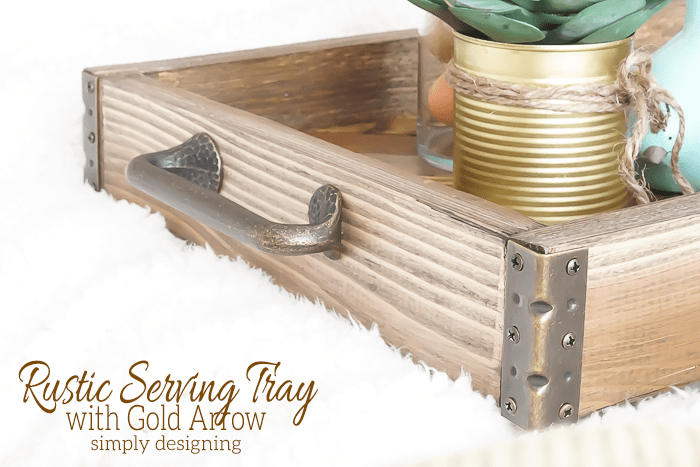 And this hardware...oh man am I in love with it!  So before I start to drool on my keyboard, let me tell you how I created this Rustic Serving Tray with Gold Arrow Accent so that you can be inspired to your own!
Rustic Serving Tray with Gold Arrow Accent
Supplies:
Elmer's Stainable Wood Filler (optional)
(3) 3' x 3" x 1" cedar wood boards
(4) 3' x 2" x 1" cedar wood boards
(2) rustic handles
(4) 2.5" tall corner brackets
Gold Spray Paint
Stain (I used three different shades that I already had on hand)
Polyacrylic sealer
Paint brush
Gloves (to protect hands while staining)
Rags to stain with
Compound Miter Saw
Nail Gun (or right angle clamps, but a nail gun is easier and faster in my opinion)
Electric Sander and fine grit sand paper
Eye and Ear protection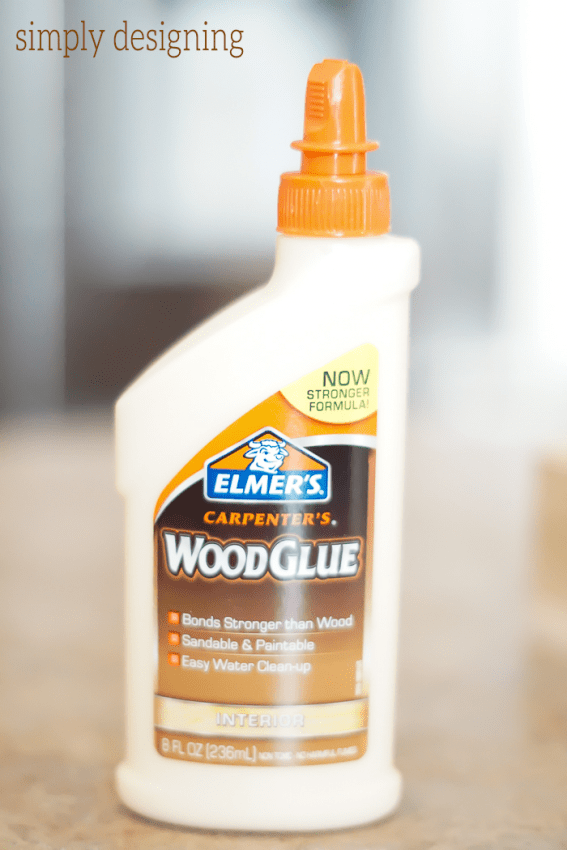 This wood glue is the secret that holds this serving tray together without needing too many nail or screw holes.  It is amazing.
First I began by cutting one of my 3' x 3" x 1" long boards in half.  These became my two long sides of my serving tray; about 18" long each.
Then I measured and cut my other 3' x 3" x 1" board into (2) 12" pieces.  These became my end pieces.
I put wood glue on both ends of the 12" long boards and placed them in between the long 18" pieces to create my outer rim of my serving tray.  I secured the 12" and 18" boards together to make my outer rim using a nail gun.
If you don't have a nail gun, you can simply clamp these corners together until the wood glue completely dries.  But I personally think a nail gun is easier and quicker.
If you like, you can use wood filler to fill in any nail holes, but I prefer a rustic look, plus I ended up covering mine with the brackets in the end so you don't even see them!  But this is an optional step if you prefer.  Just be sure to let the filler dry and then sand it prior to staining it.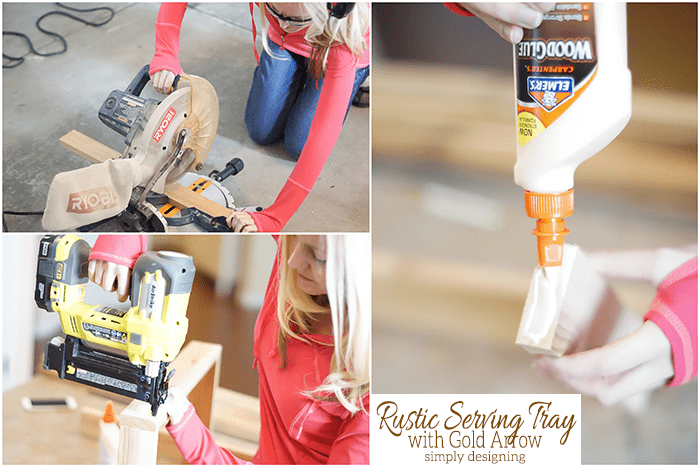 After my outer rim was created, I began measuring and cutting my inside pieces.  I used the 3' x 2" x 1" boards and cut both ends at 45 degree angles so that they would fit into the box properly.  This is one of those projects where it is honestly easiest to line the boards up, mark and then trim them because it is nearly impossible to give exact dimensions of every board and you want this to be a really tight fit without any gaps.
Cedar wood is a lot more rustic then some of the other boards available at my local lumber store.  I choose to use cedar because I wanted my serving tray to look rustic and weathered.  If you prefer a smoother look, choose a smoother board and sand them well!  But even if you want a rustic look, it is still a good idea to take a few minutes here to sand any rough edges before moving on.
Once the inside diagonal pieces were cut, I stained all of my wood pieces except the two pieces that I painted gold to be my accent arrow.
After my boards were stained and painted and dry, I used the wood glue to glue my inside pieces together.  After the inside pieces were glued together, I set my outer rim around my inside pieces and glued the outer rim to my inner pieces.
Now is the perfect time to seal the serving tray with a coat of Polyacrylic sealer.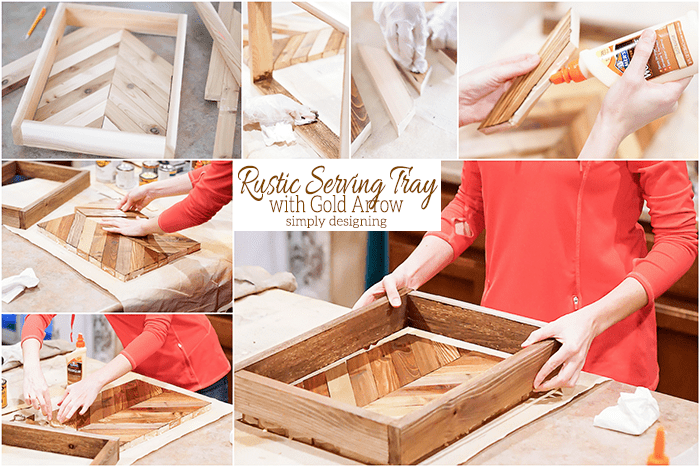 After my tray was dry, I added my handles and corner brackets as finishing touches on the beautiful rustic serving tray!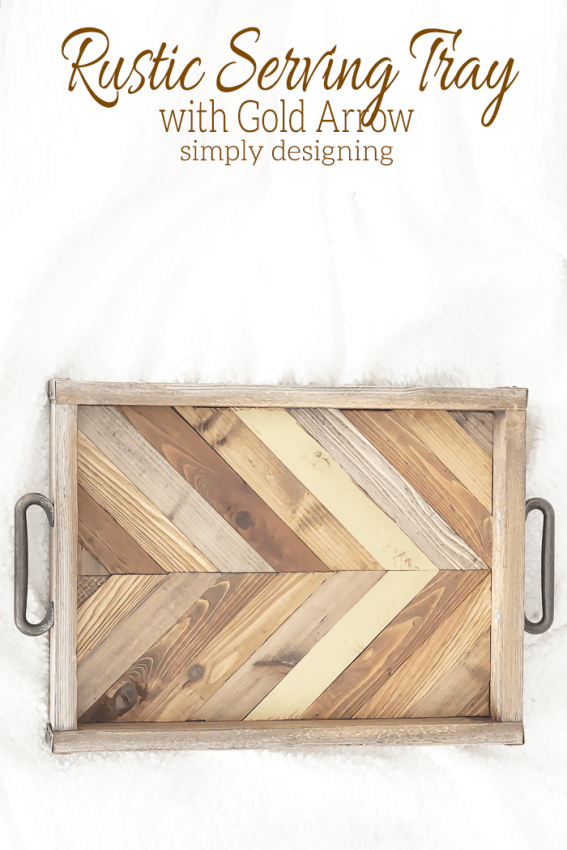 I love how the gold arrow gives the rustic serving tray a modern pop of gold to it!  Its just a subtle touch that makes me love this even more!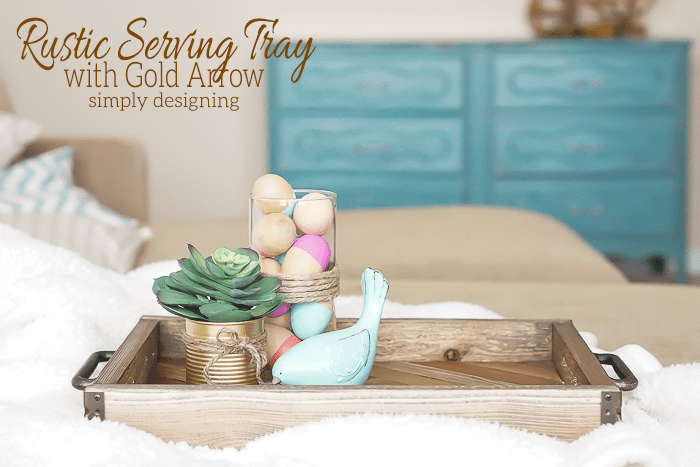 I added a beautiful Succulent in a Gold Tin, a cute ceramic turquoise bird and a glass jar full of Color Blocked Easter Eggs to the tray and I love how it brightens up and adds a touch of spring to my room!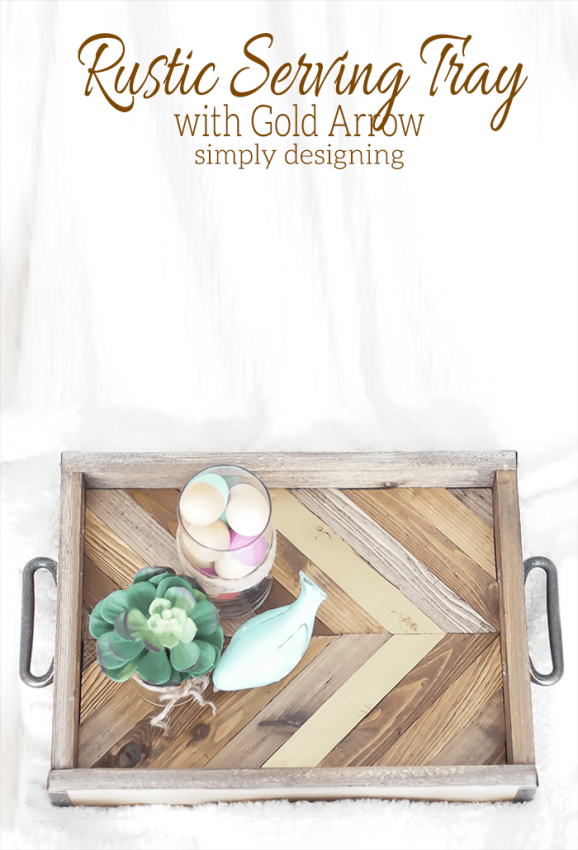 This is perfect on an ottoman or on a dresser!  But it would also look absolutely stunning on a table as part of a beautiful spring tablescape!  The options are endless!
If you love this Rustic Serving Tray, you might also enjoy these too: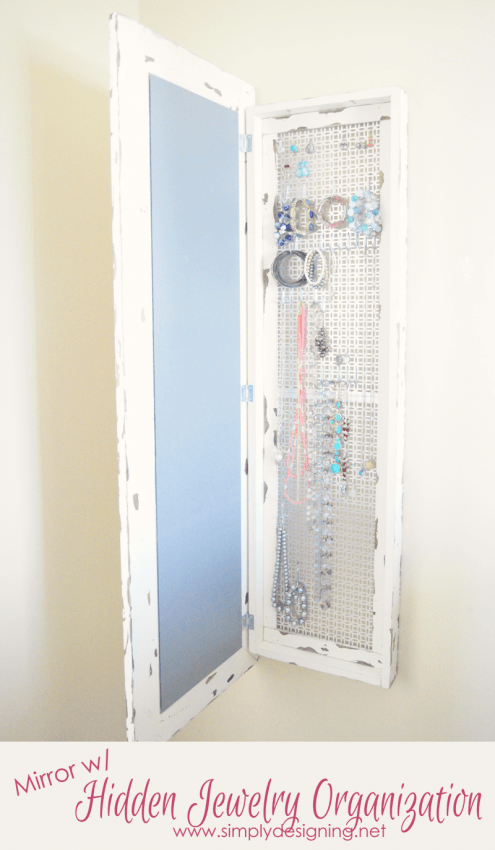 DIY Framed Mirror with Hidden Jewelry Storage