It is currently snowing big white fluffy flakes outside my window and it is just so beautiful!  So I thought it would be a perfect day to write about a cute little Winter Wonderland Cloche project!  This little craft is the newest addition to my winter decor this year and I just love how cute it is!  And did you know, it is actually really simple to make your own winter wonderland cloche?!  Really!  So keep reading and I will show you how you can make your own winter cloche!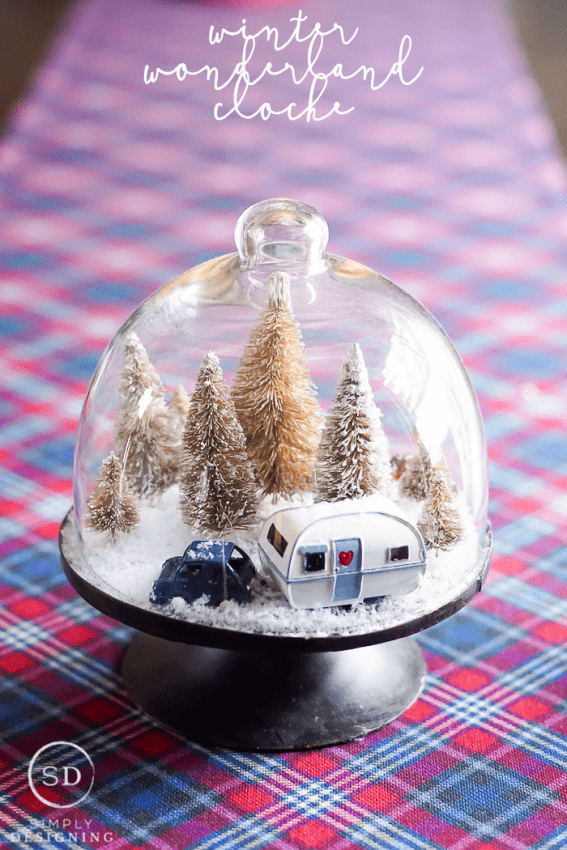 A big huge thank you to Elmer's for making this post possible today. 
I was actually about to take this cloche to goodwill.  I was done with it, over it, I didn't know what to do with it anymore so it was literally in the pile to take to donate when the idea to use it to create a winter scene cloche came to me!  So I ran and snagged it from the pile before it was taken to be donated!  Then I headed to my local craft store to gather a few supplies I would need to create this and got to work!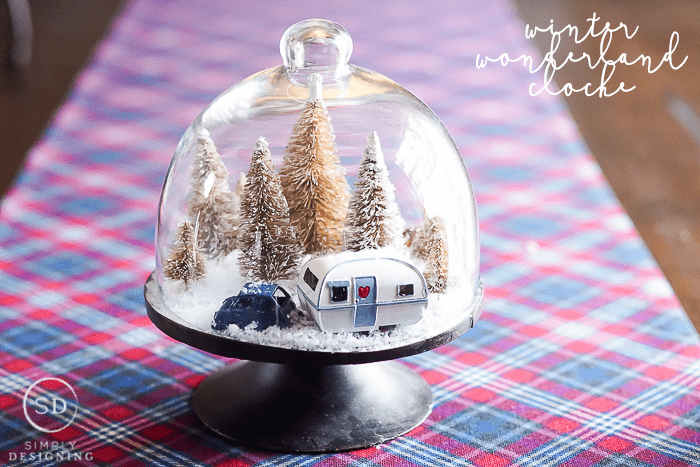 To create a Winter Wonderland Cloche, you will need: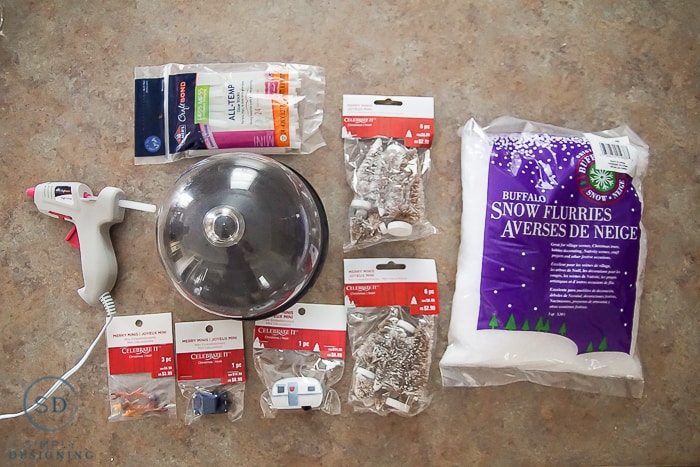 First you will want to begin by cleaning the cloche out.  Whether it is new or old, it will probably need a quick wipe down.  Mine had little fingerprints all over the glass.  Then gather your supplies, plug your hot glue gun in and begin to work!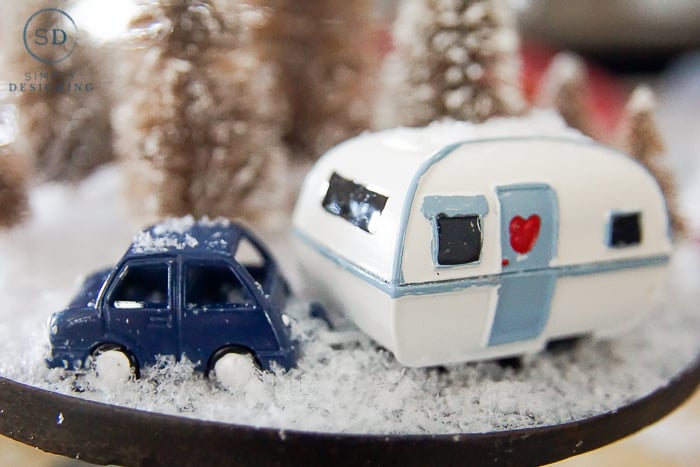 You will want to begin by arranging your miniatures into a scene in the bottom of your cloche.  I found this cute car and rv that I just fell in love with and knew I wanted to use for this scene!  Those were placed front and center and the rest of the scene was developed around it.  I also used cute little trees and a few deer in the background of this winter wonderland cloche too.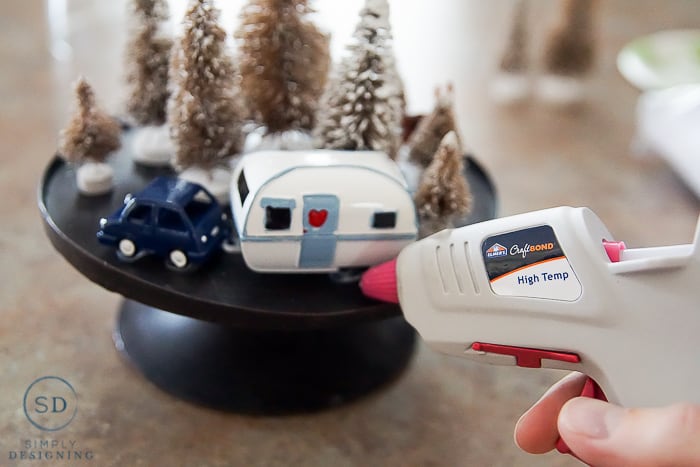 Once everything is set in place on the bottom of the cloche, you can use your hot glue gun to glue your miniatures into place.
I love using Elmer's NEW hot glue gun and glue sticks for this project!  Their glue sticks eliminate the strings that other hot glue sticks leave behind and guess what!?  You can now purchase it at Michaels Craft Stores!  I saw them in my store just the other day.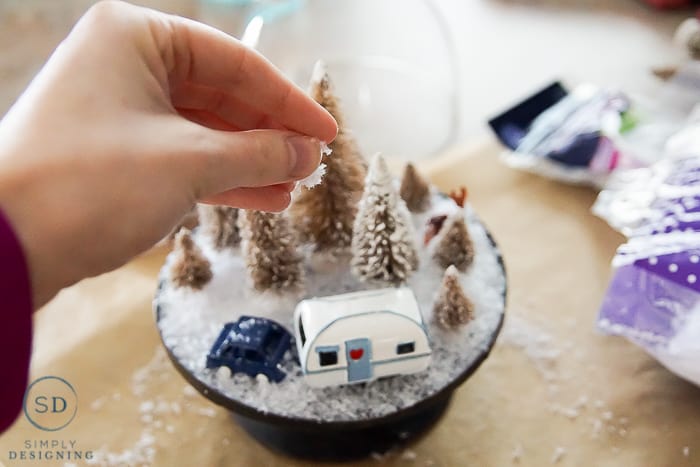 Once all of your miniatures are glued in place, you will add your snow!  If you like, you can add a bit of hot glue or Elmer's Glue-All to the bottom of your scene to help the snow stick a little bit, but ideally, you will put a thicker layer of snow in the cloche then glue will really stick to, so this part is optional.  Pile on the snow as deep as you want and try not to sneeze or cough while you are doing it so the snow doesn't blow everywhere!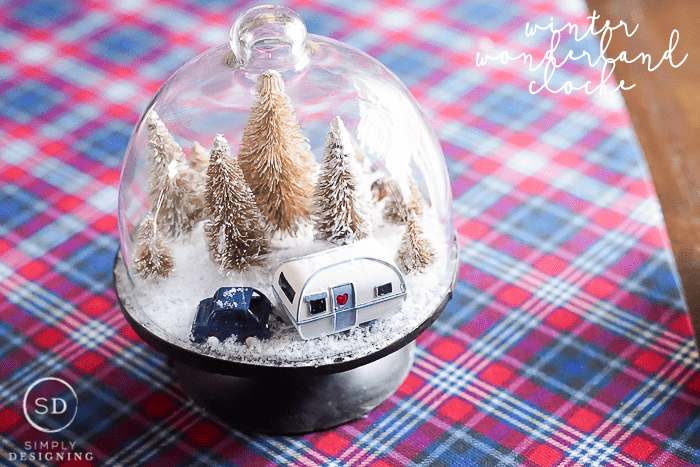 Once the fake snow is in place, you can put your glass top back onto your cloche and your winter wonderland cloche is complete!
It is such a fun project and a great way to use items you might even already have around the house!  And I just love how cute it turned out!
If you are looking for more hot glue gun projects and other fun DIY crafts, be sure to follow Elmer's on Instagram and Pinterest, or sign up for their Craft-It newsletter.
You might also enjoy: