Today I am really excited to share one of my biggest Thrift Store Transformations ever!  I joined up with 40 other amazing bloggers for the 4th annual #SwapItLikeItsHot challenge and I will admit that I was completely stumped.  But I really really love what I ended up being able to create out of a few items from a thrift store and a little creativity.  Today I am thrilled to show you how I created this Hanging Pulley Photo Display! #Swapitlikeitshot4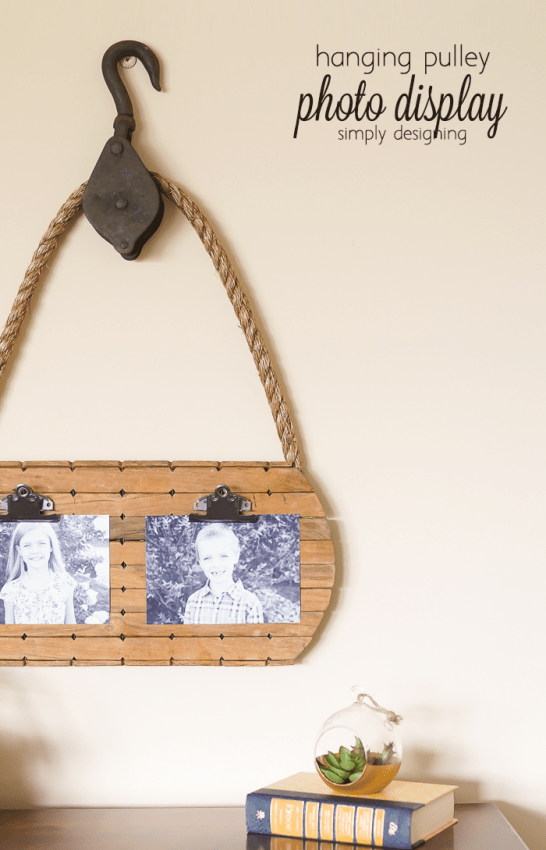 Isn't she beautiful!?!?  I am just thrilled with how this all turned out!  I love how it is rustic and useful and just so unique too!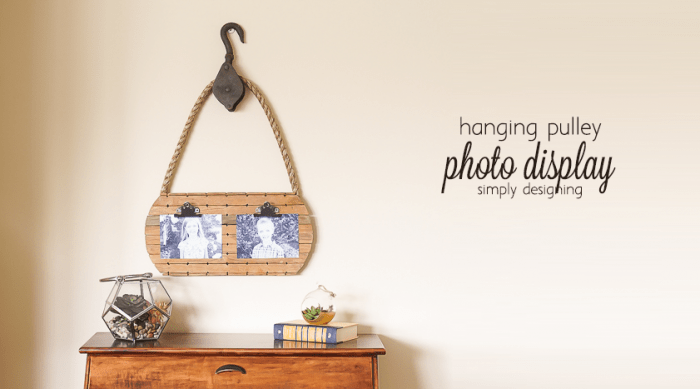 Hanging Pulley Photo Display
For this challenge, another blogger mailed me a box full of Thrift Store Goodies.  I will admit, it actually smelled like a thrift store when I opened it up so I looked at everything and then set it all out to air out!  Haha!  Also, I was completely stumped as to what I wanted to create!  Here is what Rachel from Shades of Blue Interiors mailed to me: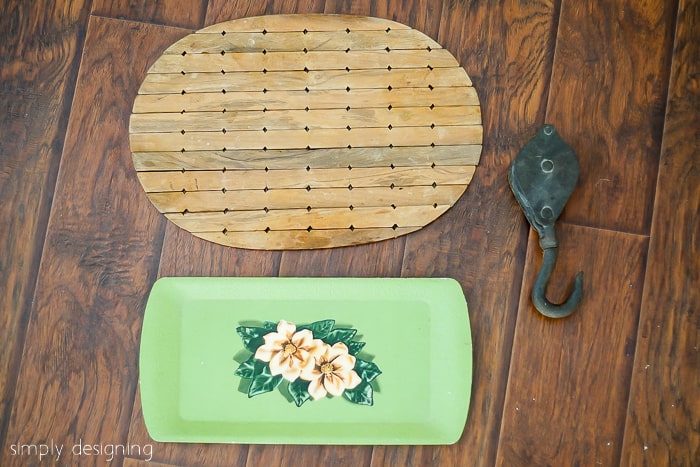 A green plastic platter, a wooden thingy about the size of a place mat and this super awesome vintage pulley.  This pulley.  I am in love with it!  It is seriously one of the coolest things ever!!!  I can never find things like that at my thrift stores so I was THRILLED to have one sent to me!  But I was stumped with what to do with all of it!
If you are here visiting from Shades of Blue Interiors, welcome!  Thanks for stopping by!!!  I am so happy to have you!
After I stewed on it for a while, and asked all my friends for their ideas, I decided to use the pulley as a hanger to hang a cute pallet board.  The wooden placemat would act as my pallet board and the platter would be my backing.  I quickly got to work and was amazed that it turned out as cute as I hoped it would!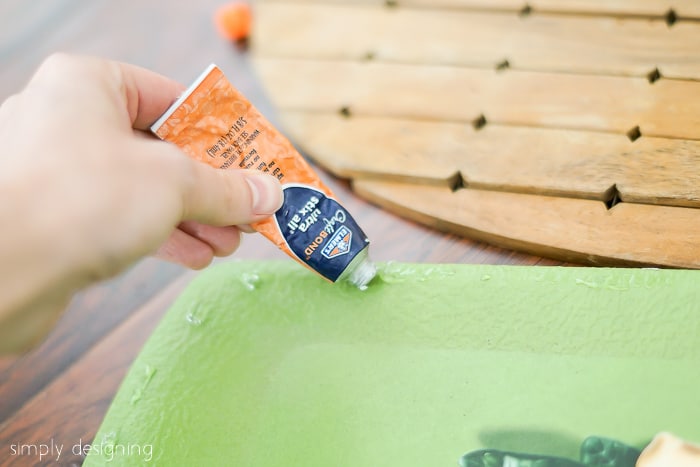 I began by gluing my wooden placemat to the platter.  I used a combination of Elmer's CraftBond Ultra Stix All Glue and my Hot Glue Gun.  (Affiliate links are included in this post for your convenience.)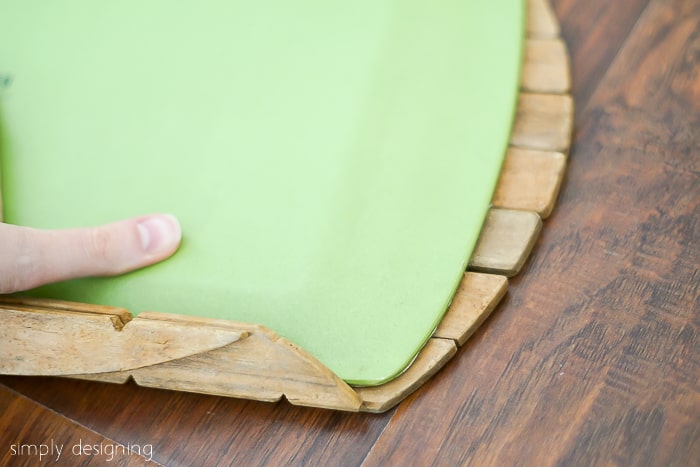 The wooden placemat fit around the platter perfectly and I was even able to wrap it around the back to secure it extra well!
Then I headed to my local hardware store to pick up 4' of thick sisal rope.  I threaded this through the pulley and then glued it to the back of my platter.
On the front of my platter I attached two of these really cute Clipboard Clips.  I had found these on Amazon a while ago and fell in love with them!  I bought them but hadn't had a chance to use them yet.  This was my perfect chance!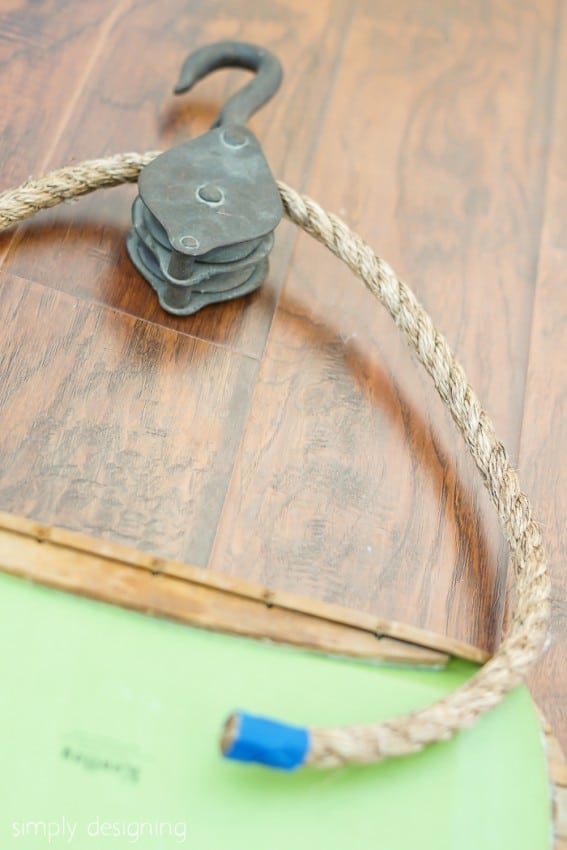 Then I printed a couple of cute black and white photos of my kiddos and hung my hanging pulley photo display up!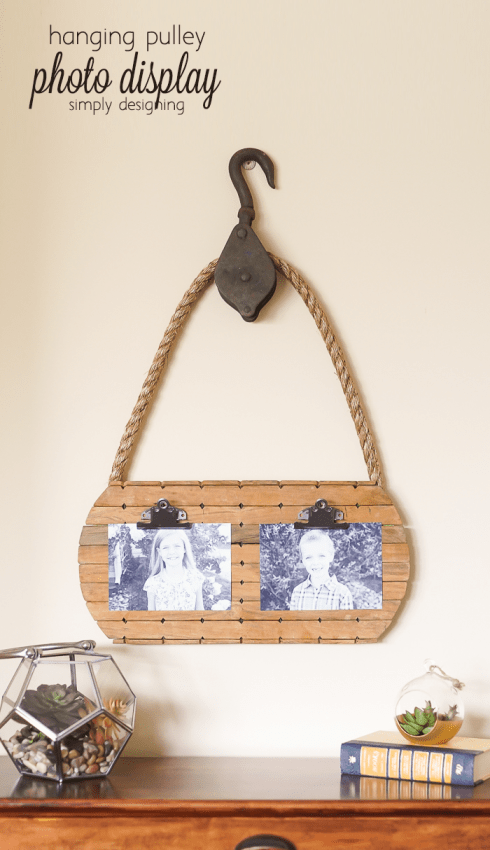 I really can not believe what a transformation these thrift store goodies made!  This challenge was so much fun and I am thrilled I was able to participate in it!  I would love it if you would take a moment to SHARE my creation with a friend or on social media!  Thanks a ton!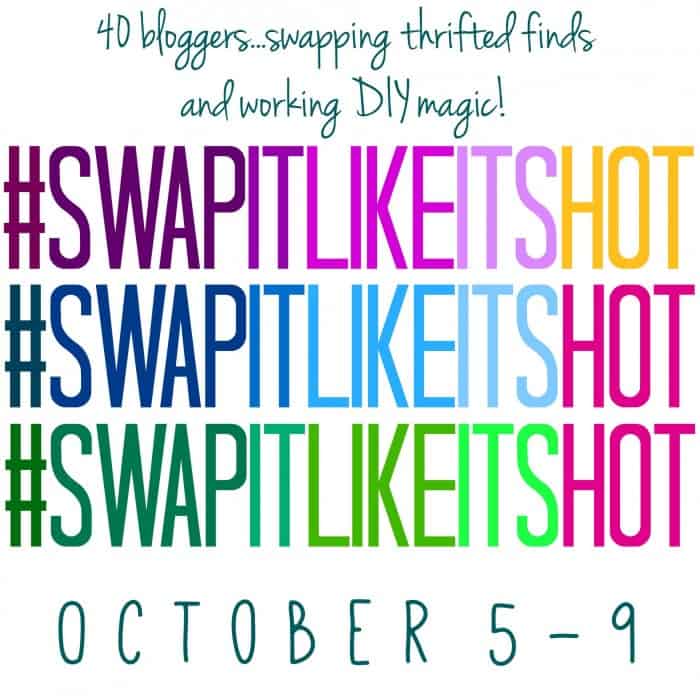 Don't forget, there is more creativity to be found today!  Next up is my friend Christy from Our Southern Home.  I sent her a few goodies and I can't wait to see what she has come up with!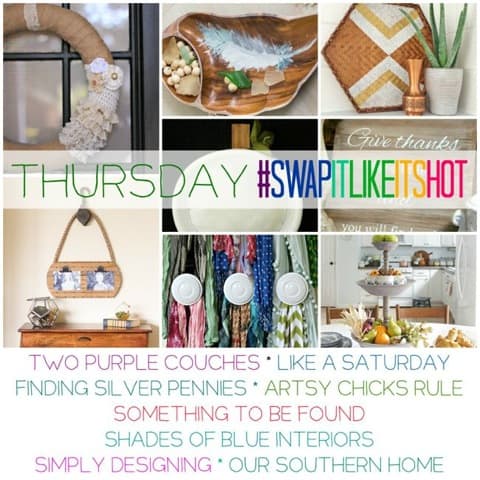 Tune in all week to see the crazy items this talented group of bloggers has been making over! Search the hashtag #swapitlikeitshot on social media to follow along with all the fun or check out our Pinterest Board.
MONDAY
TUESDAY
Confessions Of A Serial Do-It-Yourselfer
WEDNESDAY
Designer Trapped In A Lawyer's Body
THURSDAY
FRIDAY
You might also enjoy: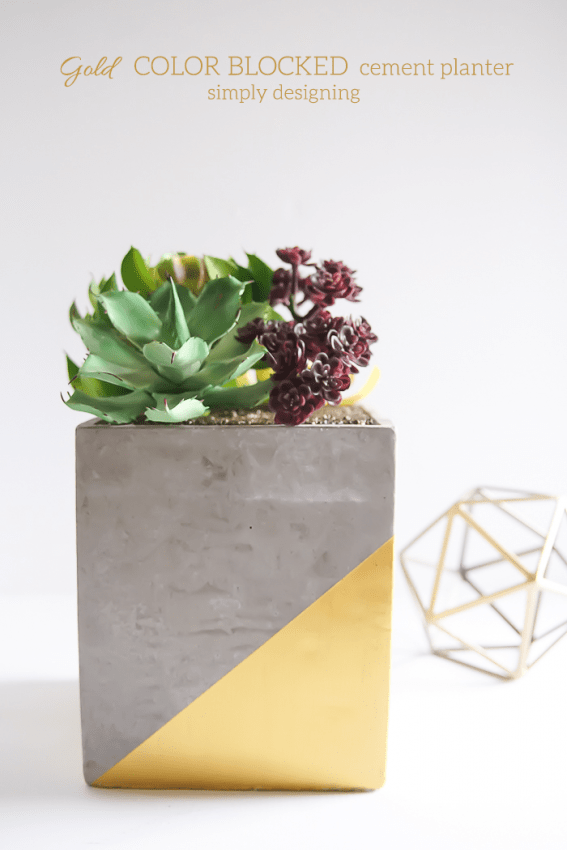 Gold Color Blocked Cement Planter