I love decorating for spring and so today I am really excited to share a really fun and simple Spring Hydrangea Wreath with you!  This wreath only takes about 10 minutes to make from start to finish and I am even sharing how to do it in a video tutorial!  Wahoo!  A big huge thanks to AdTech for making this post possible today!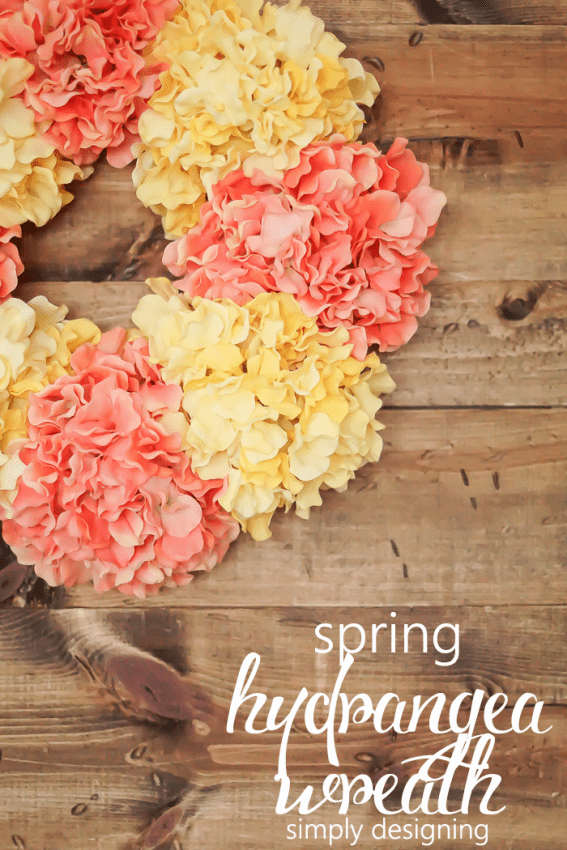 I went to Michaels the other day and saw their beautiful, spring colored hydrangeas and I fell in love!!  And it inspired me to create a hydrangea wreath for the spring!  I had created this fall hydrangea wreath and this holiday hydrangea wreath, but these hydrangeas were such vibrant fun spring colors I wanted to use more then just a few stems!  As I was thinking about how to create this wreath, I was reminded about a beautiful hydrangea wreath I saw at A Night Owl blog and I knew I wanted to create a similar wreath.  So I snagged a few supplies and created this in about 10 minutes.
As a tip, I think that Michaels has the best fake flowers!  Their hydrangeas are just nicer and more full then any other ones I have found.
A few notes before you see the video:
In the video, I show two different ways to attach the hydrangeas with the hot glue.  I ended up liking the second method better where I inserted the hydrangeas first, and added the glue second with my AdTech Project Pro hot glue gun.
In the video, I give two different options for finishing the wreath by either bending and gluing the stems down or by snipping the ends off and hot gluing them.  I ended up preferring the second method here as it made the back of my wreath more flat and it sat against my wall a little nicer.  Just be sure to use lots of hot glue so that the hydrangeas stay in place!
You can of course use whatever option you like, but I wanted to let you know what options I ended up liking better and why.  Either way your wreath will turn out great!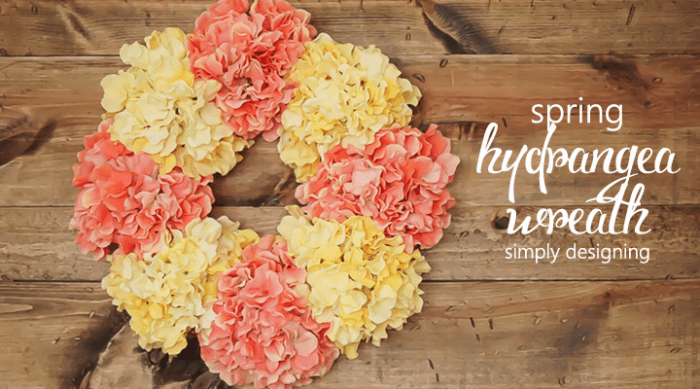 Spring Hydrangea Wreath
To create this I used:
AdTech Project Pro Hot Glue Gun
Floral Ring, medium size with 8 holes
8 Hydrangea Stems (I used 4 Coral and 4 Yellow)
Floral Snips
Enjoy!
If you enjoyed this, you might also like these projects: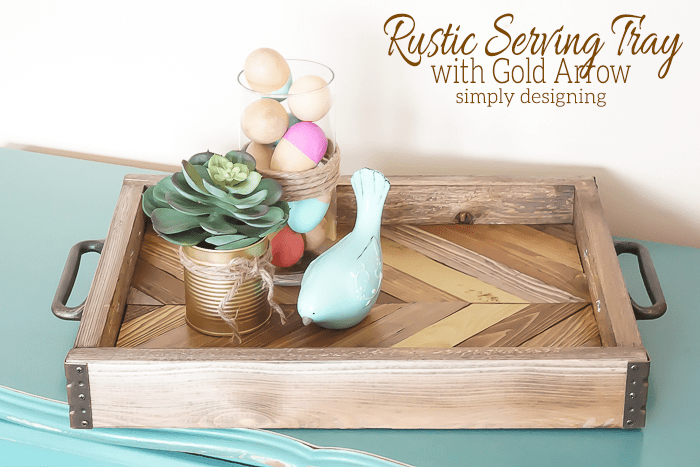 Rustic Serving Tray with Gold Arrow