It's the time of year for holiday parties and while I love hosting them, it can get stressful.  Especially if I wait until the last minute to plan!  But with the right planning (hint: start well in advance), it is possible to successfully host a stress-free holiday party this year.  Today I am joining forces with my friends at ​EVITE® to share a few top holiday party planning tips so that you can have a stress-free holiday season.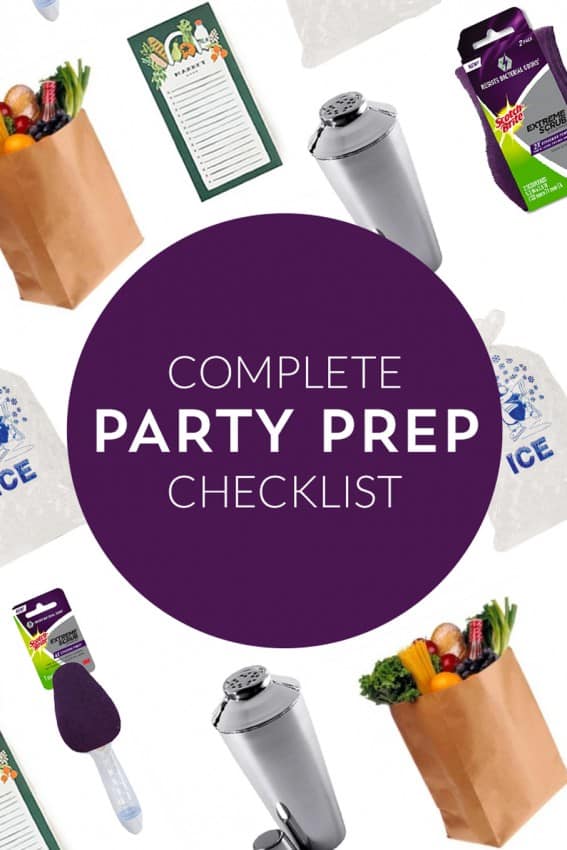 A big huge thank you to EVITE® and Scotch-Brite™ for sponsoring this post.  All opinions are 100% honest and my own.  #EviteParty  #CleanFeelsGood
I know that I start making plans (in my head) for parties the moment I decide to host one.  And it is definitely best to start planning as far in advance as possible.  I suggest sending out an invitation to the party about a month in advance.  I personally LOVE using Evite to send out all my party invitations!  Then, about 2 weeks before is the perfect time to really get down to work on your party preparations.
2 Weeks Before
Plan Your Menu
What a will you serve at your party?  It is a potluck dinner, just appetizers or desserts, or a full sit-down dinner.  No matter what you decide to serve make a plan two weeks in advance and stick to it.  While you are at it, prepare your grocery store list, review it occasionally too just be sure you didn't miss anything.
If you are looking for ideas to jumpstart your menu, you should definitely check out some of my family's favorite recipes perfect for any get together:
Plan Your Decorations
I don't often decorate for parties,  but if you like to, you should check out these top 10 simple party decor ideas for inspiration.  And I will admit, these Gold Dipped Glasses and this Glitter Sparkling Cider Bottle (I don't drink alcohol but this would work for any bottle) is to-die for and would make any party instantly fancy: perfect for the holidays!
1 Week Before
Buy Groceries and Drinks
You remember the grocery list you made a week ago, now is the time to go and purchase all your non-perishables.  Make sure you have enough paper goods as well.
Declutter
Go through your home (at least in parts of your home where your guests will be) and declutter it.  Also take a few moments to clean out your fridge and throw away anything that is going bad so that you have room for your party food.  If you need help, you might want to check out my post about cleaning and organizing everything.
Plan Your Party
Will you have dancing, music, games?  Think about how you want the part to progress, make a plan and get everything prepared for it.  If you plan to play music, create your playlist.  If you want to play games, gather up everything you will need to play them.  Make a designated area in your home to stash these items until it's party time.
2 Days Before
Clean Up
Take a few hours and truly clean your home.  You will feel better about inviting people into your home if it is clean.  I like to dust, sweep and mop my floors, clean my tile floors, clean my kitchen (Scotch-Brite™ products can really help get this done!), clean my stainless steel appliances and clean or spot clean my carpets if needed.  Oh and of course the bathrooms!
Pick Out an Outfit
Plan what you are going to wear and make sure it is clean and washed.  If you are going for a more formal party, you might want to steam clean your dress or suit today too.
Plan Your Servingware
Yes pick out what dishes you plan to serve everything in and know where each item will go on your counter or table.  It might seem like a bit much, but this will make the day of your party go so much easier if you think this through in advance!
The Day Before
Make a quick run to the grocery store to grab any perishable foods you still need to buy.  Rearrange your furniture (or bring more chairs down if needed), decorate and make your food.  Yes, prep as much food as possible today so that tomorrow you only need to heat and serve your food!  I promise this will make your party day so much easier and stress-free!  Oh and don't forget to clean up after yourself too.  After you are done cooking and preparing, clean your dishes with Scotch-Brite™ Extreme Scrub Sponges to ensure that all your dishes are clean and ready to go for tomorrow!
The Day Of
Complete your last minute food prep and heat or warm any dishes you need to cook today.  Set the tables with food, drink, dishes, silverware etc.  Light candles (if desired), start your play list and take a moment to put your feet up and relax before your guests arrive.  It is always best to have everything prepared before your guests arrive, but if you need to do last minute preparations, allow enough time to take a breath before your guests arrive so that you are calm, not-stressed and ready to host the perfect party!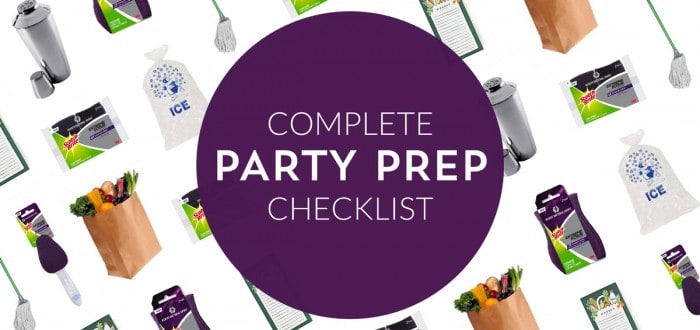 I've shared a few of my tips, but head on over to evite.com for your complete party prep checklist so that you can host your next party stress-free!
You might also enjoy these posts: