It's official.  I have summer fever!  With spring well under way and summer coming quickly, I feel a big desire to update my interior space to make it a bit more summery!  Unfortunately, I don't have the budget to completely redecorate my whole home every season.  So today I am sharing a few fun and simple ways to incorporate summer colors into your home without breaking your budget.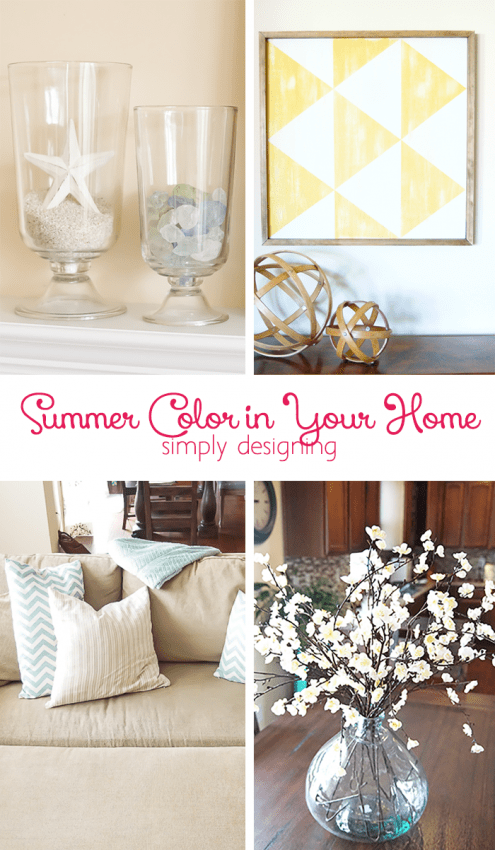 You can use just one of these ideas or all of them!  Either way, this is a great way to get started on brightening and lightening your home for the summer months ahead of us by including items in fun summer colors into your home.  And the best part is, I'm showing you how to incorporate summer colors into your home without BREAKING YOUR BUDGET!
Incorporate Summer Colors into your Home Without Breaking your Budget

Add Summer Color with Flowers
Fresh flowers always bring a beautiful feeling into a home!  And the colors of flowers are perfect for summer!  If you have a garden simply grab a few stems and place them in a cute vase or mason jar to enjoy.  Another great option is to grab a beautiful bunch of flowers from the grocery store.  Many times the bouquets are so large that you can split it into several bunches to use throughout your home.
If you are allergic to fresh flowers or they simply aren't your thing, consider using beautiful faux blossoms in your home instead!  These can create such a beautiful feeling in your home and you don't have to remember to water them!  These beautiful faux blossoms are currently decorating my kitchen table in my recently updated Kitchen!  You can see more details about our kitchen make-over here.

Add Summer Color with Citrus Colored Food
Again, real or faux works in this case!  A beautiful display of fresh fruit (especially citrus fruits) in the kitchen instantly creates a feeling of summer in the room!  Faux fruit is perfect to use if you prefer to decorate using citrus colors in other parts of your home.  Adding a few citrus colored pieces of fruit can instantly make a space feel ready for summer!  I am currently on the search for something large enough to hold grapefruit on my kitchen counter because I love the coral color grapefruit adds to a space.  In the mean time, these lemons will work.

Add Summer Color with Art
Updating your art work can see daunting, but it doesn't have to be!  And it is a great way to add summer color to your space with a big bang!  This Triangle Art Knock-Off art work is a really good example of a wonderful way to add a bright summery yellow to your home without a lot of money!  You can get all the details to create your own art here.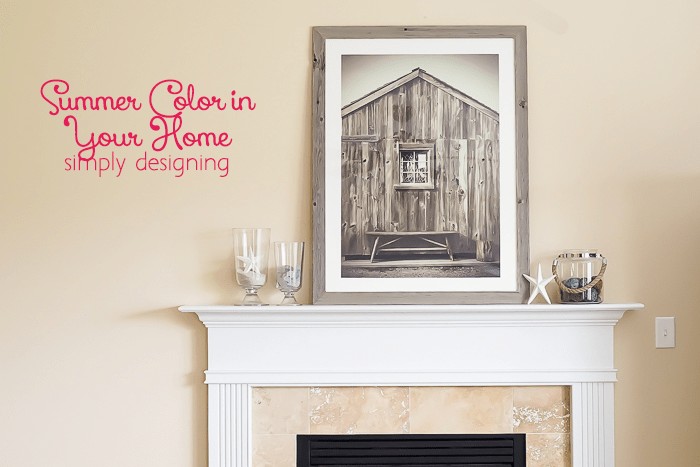 I am also crushing on this beautiful Beachy Art Print!  This is a beautiful way to add a fun summer style to your home too!  See the details on my beachy mantel and this artwork here.

Add Summer Color with Pillow Covers
Changing out pillow covers must be one of the most simple and inexpensive ways to change the mood of a room!  It is easy to find inexpensive pillow case covers or if you are crafty, you can sew new covers for yourself!  Adding a coordinating blanket or throw can pull the room together quickly and without a lot of effort.  Just think of the possibilities, new pillow covers for the spring, summer, fall, winter and even for holidays would be so much fun!  Here is a simple tutorial for making a pillow cover from a fat quarter.

Add Summer Colors with Natural Elements
Bringing the outdoors in is one of my favorite ways to help the inside of my home match the season!  In the summer I love adding natural color to my home using elements such as beautiful sand and sea glass.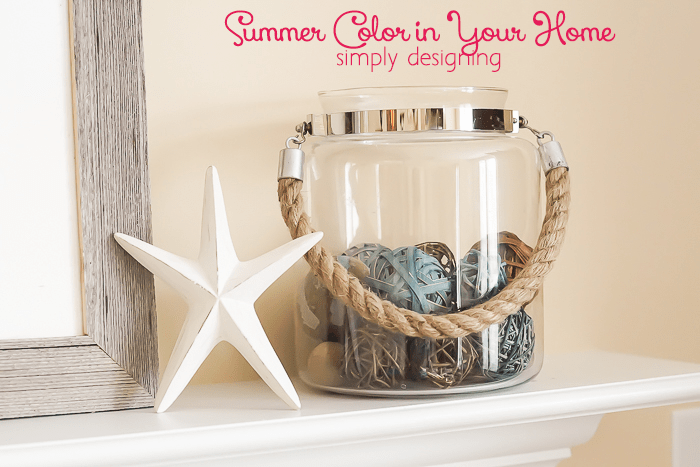 Sea shells and starfish (whether real or fake) can also help bring light and airy beach colors into your home.  And if you are lucky, you can even gather items like this from your local seashore or from a fun beach vacation!

Add Summer Colors with a New Rug
Did you know that it is super easy to add a custom sized to your space with Mohawk?  Mohawk will cut and bind any of their carpets to custom fit your space!  I particularly love this Mill View SmartStrand with Forever Clean carpet!  Isn't the diamond pattern to-die for!?  And this carpet in Cool Lagoon (a beautiful blue color) is very popular right now and perfect for adding a touch of summer blue to your space without a long-term commitment.
What's your favorite way to incorporate summer colors into your home?
This post was first seen on Mohawk's Creative Home Blog.