I can not believe how quickly 2014 came and went!  It was a wonderful year!  A year of great growth and change both personally and professionally.  It was a busy year too.  Of course there were ups and downs but looking back I really only remember the good!  (I love how my memory works like that!)  And so today I am absolutely ecstatic to share my Top Posts of 2014 with you!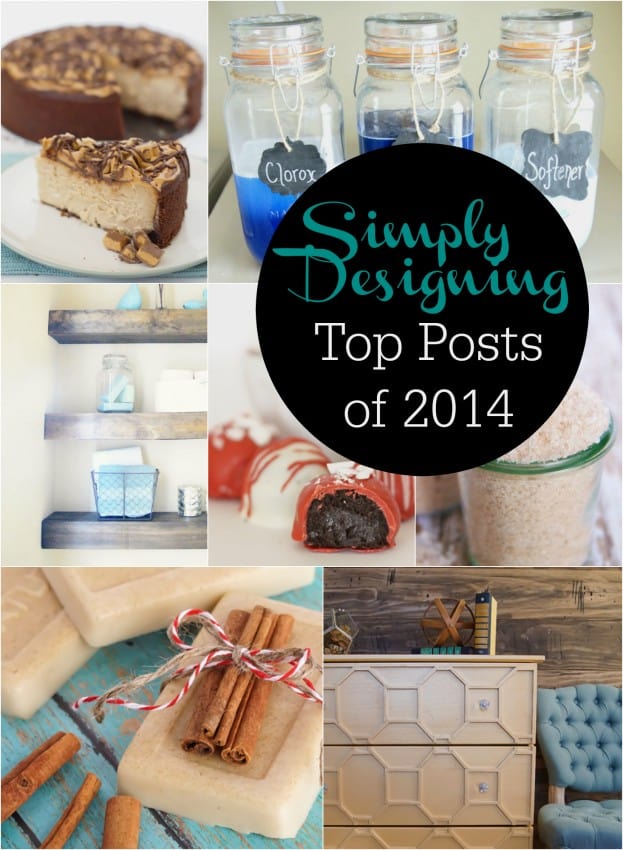 I love how my top posts of 2014 include a variety of genres from DIY to Recipes, Crafts to Cleaning Tips and even a few DIY Bath and Beauty ideas!!  So much fun!  It is so fun to see what posts you guys loved last year!
I am excited about starting a new year!  2015 is going to be great!  I have a big year planned and I can't wait to share it all with you as I go!  But for now, enjoy my Top Posts of 2014!
Top Posts of 2014
We made some updates to our home this year and we spent a great deal of our efforts sharing how we updated our bathroom.
I also transformed an awesome dresser and showed you how to make a framed mirror with hidden jewelry storage!
Metallic Gold Honeycomb Dresser
DIY Framed Mirror with Hidden Jewelry Storage 
The most popular posts from last year are definitely some of my favorite.  I really had a good time making DIY bath and beauty stuff and you guys loved it, too! Let's see what I whipped up...
Handmade Oatmeal Cinnamon Soap
You know how much we love sweets at our house.  It was no surprise to find that the sweets took  top honors when it came to the top recipes of the year!  Let's see what was so popular... and delicious!
Cleaning tips were also a fan favorite this year.  I taught you how to clean those tile floors and how to get organized in the laundry room!
Finally, I shared some great tips to help you in your everyday life!