Good morning friends!  I spent the better part of last year working on turning our former playroom into a beautiful and functional craft room.  And I am so excited to say that I am about 90% of the way complete with it!  This room has been a big project but it is the absolute perfect combination of functional and beautiful.  My barn fancy craft room has a few really cool features and also a ton of storage.  I sometimes tell people that my craft room is really just organized craft hoarding.  However, it honestly is so much more!  It is organized I can find things and it is an absolute joy to work in!  I feel inspired and happy and it is perfect for me.  So today I am really excited to share more about my craft room on this brief little craft room tour!

Craft Room
This room was previously a Playroom. (read more HERE)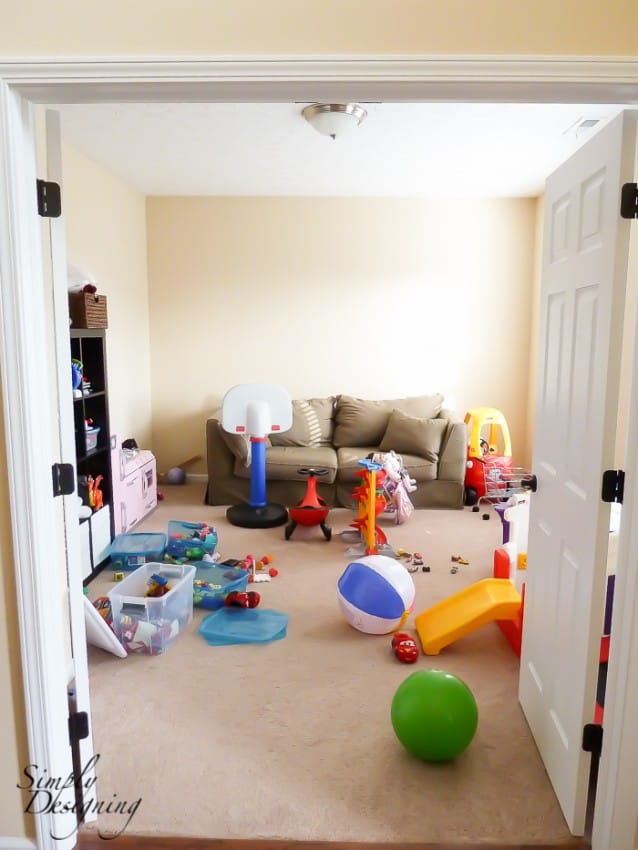 But we purged what we no longer used or needed and moved the rest of the toys to my kids rooms.  Then we removed the carpet and installed laminate hardwood flooring in the room.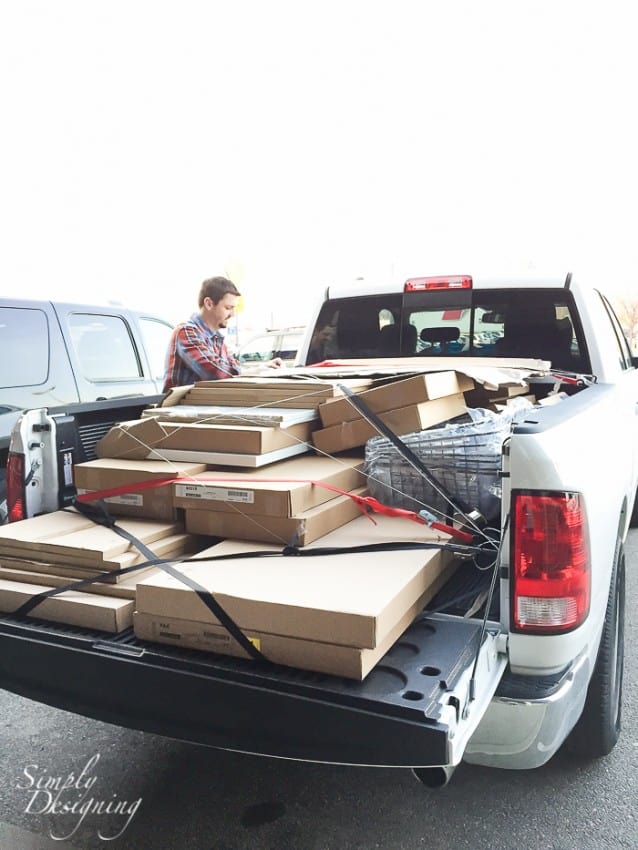 We also took a big trip to IKEA to buy cabinets for the space.  I wanted to use as much space as I could to efficiently create usable storage as well as a well planned functional space.  I also wanted it to be pretty.  No big deal right!?
After we brought a huge load of cabinet parts and pieces back from IKEA, we began to put the cabinets together.  (read more HERE)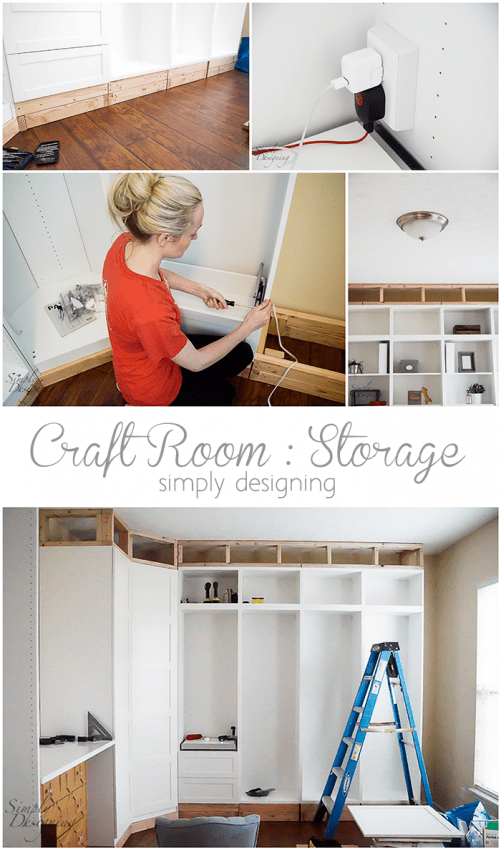 After the cabinets were together we came up with a plan to build them in.  This is one of my favorite IKEA Hacks to date and it is amazing what a huge difference building the IKEA cabinets into our walls made.  (read more HERE)

After the cabinets were built in, painted and caulked, I decided it was time to paint my walls Gray.  (read more HERE)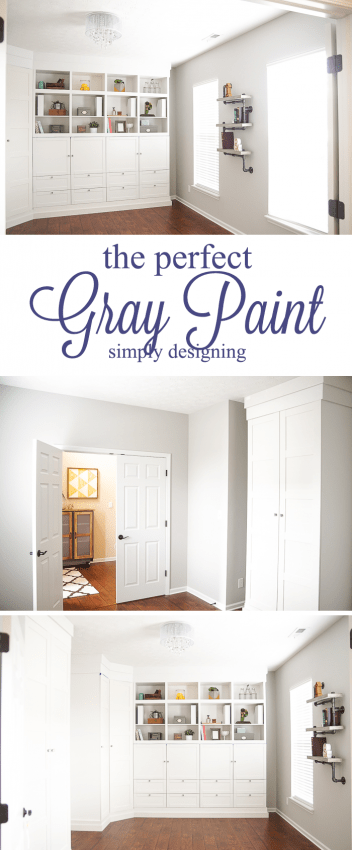 I also built a really awesome and beautiful, modern and industrial looking Concrete Pipe Shelf.  This is just one of my favorite parts of the whole room!  Eek!  (read more HERE)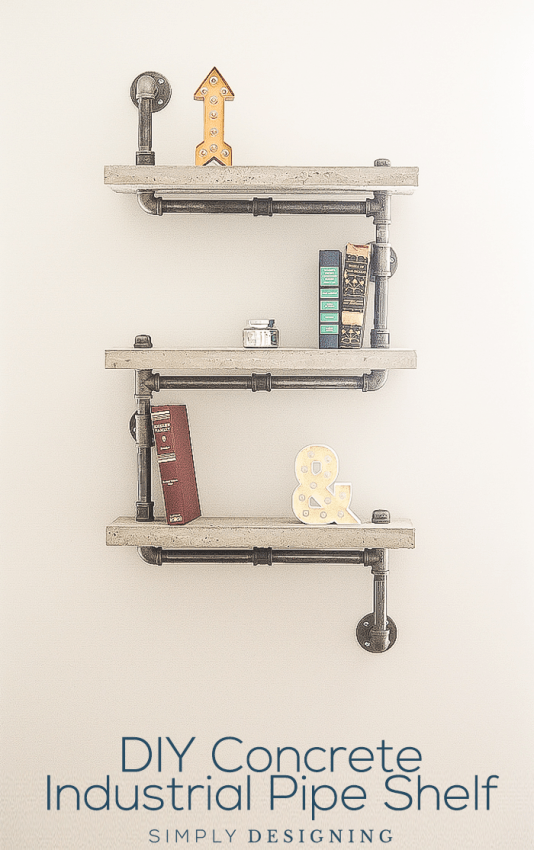 And then I created a pretty Industrial Pipe Leg Desk with a $9 IKEA table top and some pipe from my local hardware store. (read more HERE)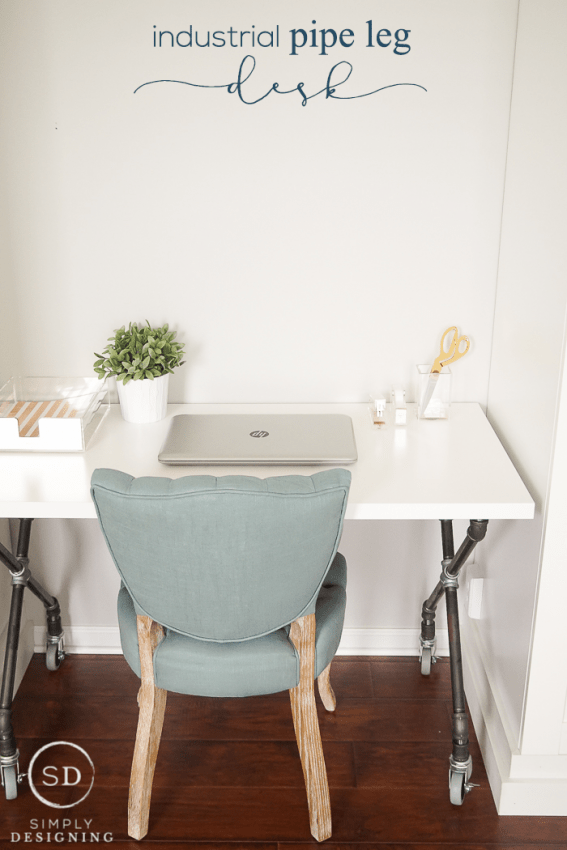 I decided to make use of some space to really organize my paint.  We built these beautiful Industrial Rolling Storage bins, two of them, and they are potentially one of my favorite organizational parts of my craft room!  I love being able to find my paint easily! (read more HERE)

I added a few fun things too to add a bit of glam to my craft room like this pretty chandelier.  (read more HERE)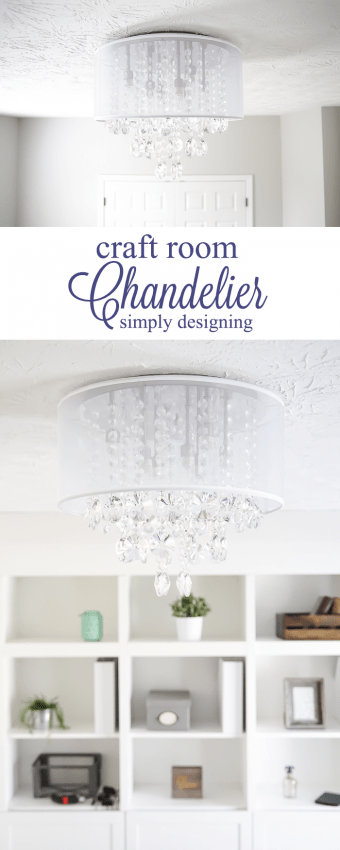 And new pretty knobs for my cabinets.  (read more HERE)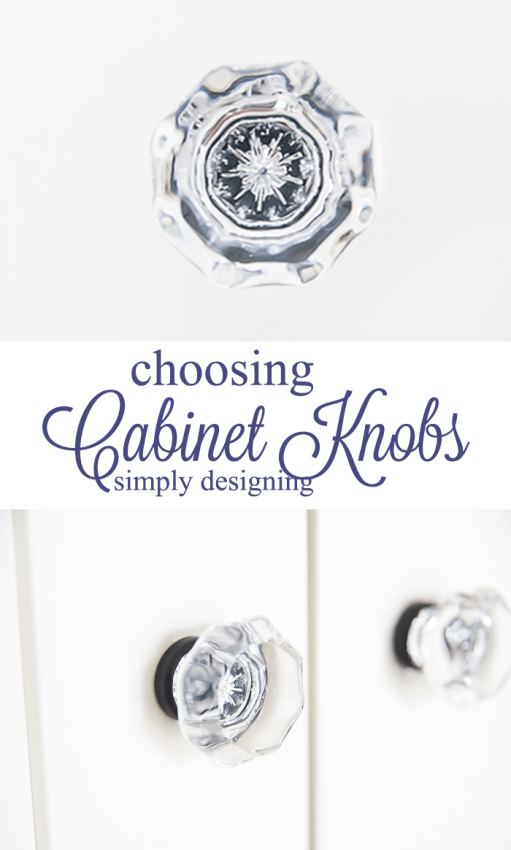 There are a few other fun features to my craft room that are a bit hidden that I am in love with!
As a warning, I just got done showing you my PRETTY pictures.  Now I am going to show you a little behind the scenes photos.  These aren't as pretty...you can see just how much of a craft hoarder I am...but hey I am organized so it is ok right?  And please don't mind the occasional blue tape in some of these photos.  The winter cold has some of our caulk cracking so I am working on touching things up again.  Because we get such extreme temperatures in the midwest, it takes about a year's worth of weather for things to finally settle down.
Ok...disclaimer over.  Here are some "behind the doors" photos!!
Inside my cabinets I have bins that roll out to organize and hold all of my crafting supplies.  These bins are so useful and functional and nothing gets lost.  I love that I can find things easily.  Yes...this may be organized craft hoarding but I am ok with that.  It is pretty and functional!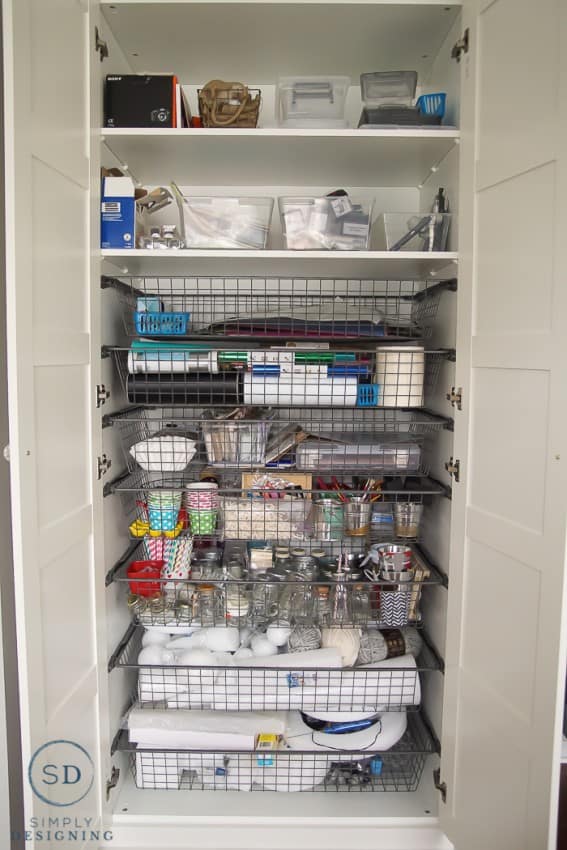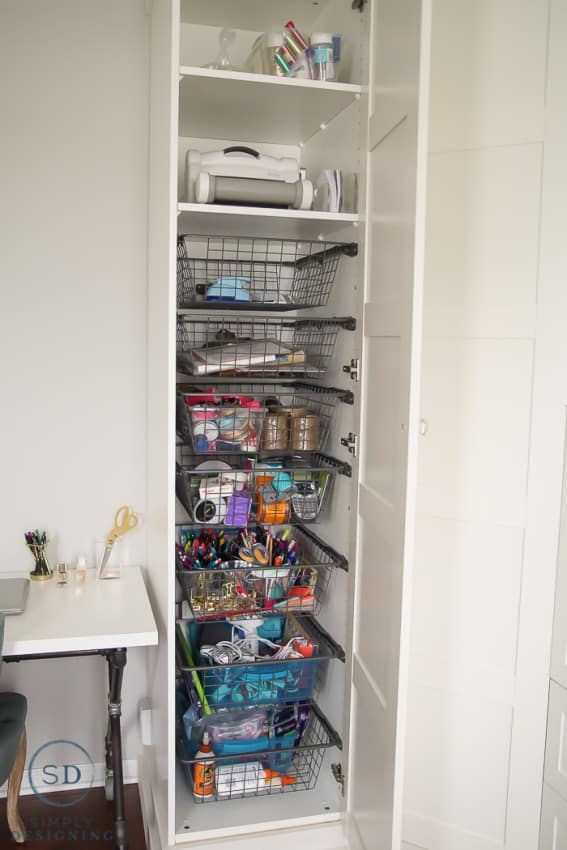 Behind one door is a pull out shelf that is perfect for storing and using my Silhouette CAMEO.  We added a plug inside this cabinet so that I could plug my CAMEO in to get power, plug it into my computer and use it!  I am so so happy to finally have a useable storage spot for my CAMEO!  Also my Minc Foil Applicator is on a half shelf in the same cabinet!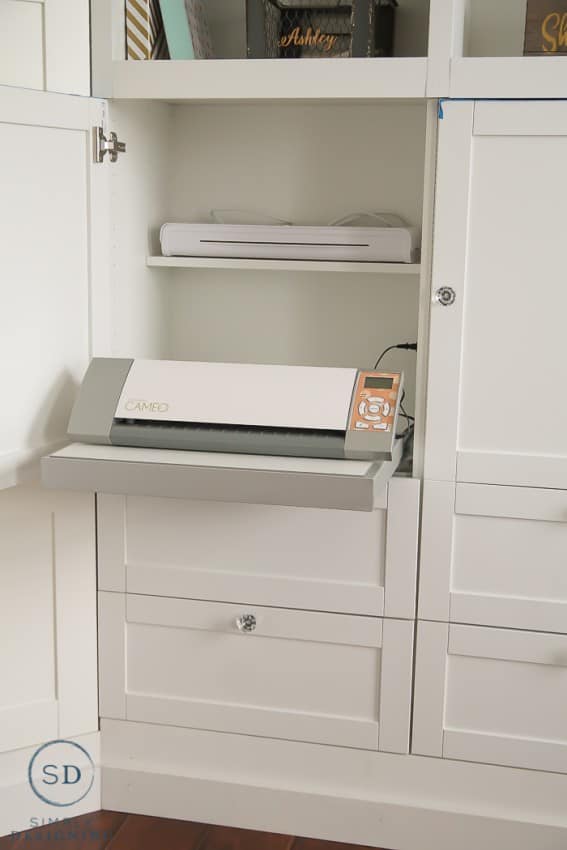 Behind another door is another pull out shelf and electrical for my sewing machine.  I don't do a lot of sewing but when I do, this makes it really convenient.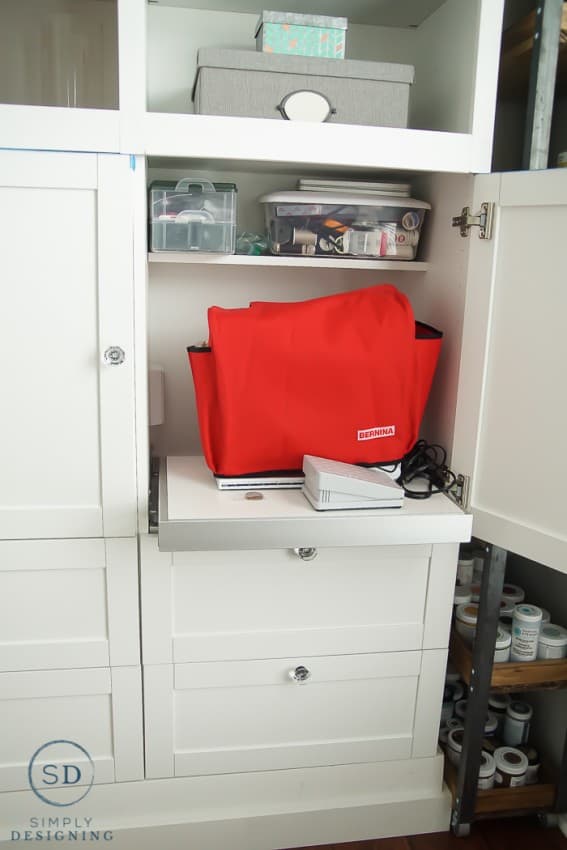 And then I added a few pretty finishing touches.  I splurged a little bit on some beautiful desk accessories.  They are hard to see in the photos, but these are beautiful clear acrylic with gorgeous gold accents!  Oh I am just in love with them!  You can find links to buy your own accessories here: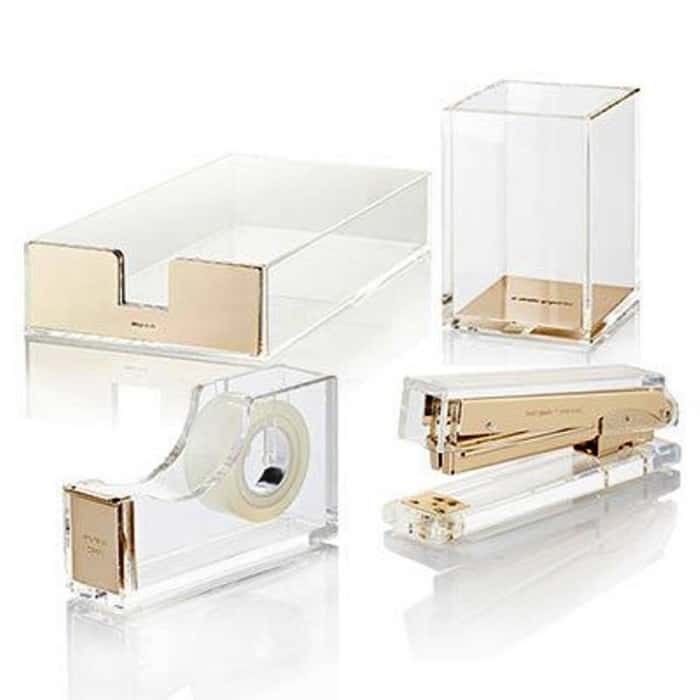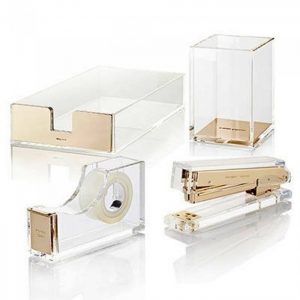 (source)
You can buy all 4 Acrylic and Gold Desk accessories HERE.
Whenever anyone asks for advice about organizing or purging a room, I always share the same advice.  You need to get rid of what you don't use and what doesn't bring you joy.  And then everything you keep needs a home, it needs a place.  That is the key to an organized home and craft room.
I followed that advice when creating my craft room.  Everything has a place and so it is easy to clean up after I am done creating for the day!
I still have plans to add a big work table in the middle of my room, but it is not done yet so I can't share it!  But I will definitely share it with you when it is complete!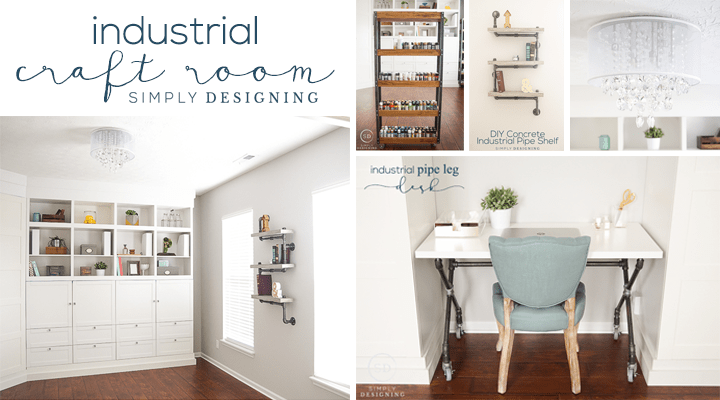 I love having a dedicated work space.  It has helped me stay focused when I am working and be done working when it is time to spend time doing something else.  Having a dedicated work space has helped me create more work - family - life balance which is exactly what I am working on paying more attention to this year.
I am really excited because I have collaborated with several other favorite bloggers who are also sharing their craft rooms with you today!
Hop on over to Jennifer Priest's blog HERE and The Scrap Shoppe Blog HERE and check out their craft rooms too!
Check out the whole Craft Room series here:
Play Room to Craft Room : Part 1
Choosing Cabinet Knobs : Part 5
The Perfect Gray Paint : Part 6
Industrial Pipe Leg Desk : Part 7
Industrial Rolling Paint Storage : Part 8
Concrete Industrial Pipe Shelf : Part 9
You might also enjoy: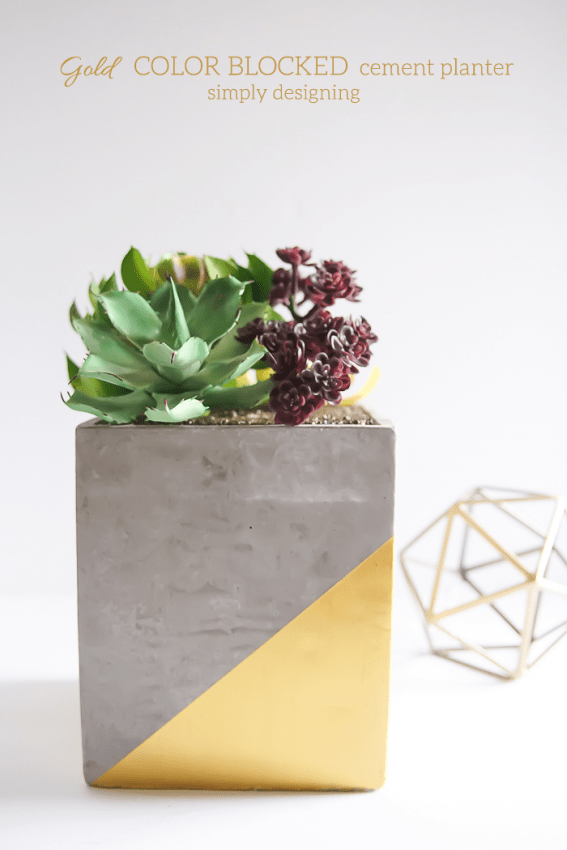 Gold Color Blocked Cement Planter